New photo fuels rumors of TD-capable iPhone 5 for China Mobile in 2011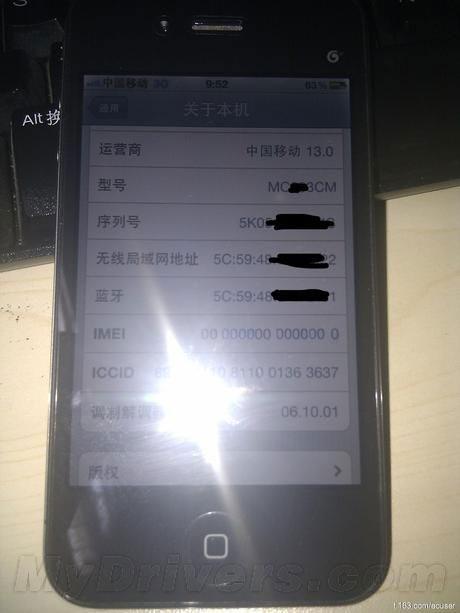 A photo purportedly showing an iPhone prototype running on China Mobile's current 3G TD-SCDMA network is being singled out Thursday as the latest piece of evidence to suggest Apple is nearing a "watershed" agreement to bring the touchscreen handset to the world's largest mobile carrier as early as September.
Several Chinese-character news websites, including sohu.com (

">translation

) and mydrivers.com (

">translation

), re-printed the unauthenticated photo, which depicts a device resembling an iPhone 4 with China Mobile's 3G logo printed in the upper right corner and running an unreleased version of Apple's baseband software carrying version number 06.10.01. The handset also lacks an IMEI number, which the reports suggest is an indication that the device represents an evaluation model.
Brian White, an analyst for Ticonderoga Securities who drew attention to the reports in a note sent to AppleInsider, said the photo supports his claims from last month that an iPhone 5 could come to China by as early as September, which would "represent a watershed for Apple" as the company would gain access to the largest wireless carrier in the world with 611 million wireless subscribers and 68% of the total China wireless market.
"Over the past several months, we have written about China Mobile's mysterious relationship with Apple that has allowed the company to support iPhone subscribers on its network without an official carrier agreement," he wrote. "For example, we have written about China Mobile's iPhone 4 SIM card cutting service, followed by the sale of a mini SIM card and then the retail sale of the iPhone 4 at a few select locations."
To this end, China Mobile during a conference call a few weeks back disclosed that despite lacking an official distribution and sales agreement with Apple, the carrier had

">identified roughly 4 million iPhones

running on its wireless network. But a new report posted Thursday to chinabyte.com, which also published its own copy of the aforementioned iPhone photo, cites China Mobile chairman Wang as saying the number of iPhones running on his company's network exceeded 5.7 million (translation) as of May.
"Clearly, the growth of the iPhone on China Mobile's network is very impressive and yet China Unicom remains the only China-based carrier officially approved to sell the iPhone," said White, who maintains a Buy rating and $612 price target on shares of Apple. "Just think what could happen if China Mobile finally inks a deal with Apple."
As often noted, China Mobile currently operates a 3G TD-SCDMA network with 32 million 3G subscribers but Apple has not introduced an iPhone that is TD-SCDMA compatible. Therefore, if an iPhone 5 was released in September, it would need to support 3G TD-SCDMA in order to operate on China Mobile's 3G network because the carrier's 4G TD-LTE network is only just beginning trials this year.
Rumors of a long-anticipated agreement between Apple and China Mobile picked up steam last month after an employee of China Mobile reportedly posted and then quickly deleted from Weibo — China's version of Twitter — a statement that the carrier would be among the first to receive the iPhone 5 later this year.
The tweet came just hours after Apple's chief operating officer, Tim Cook, was reportedly spotted at the headquarters of China Mobile. Cook, who was believed to be talking with executives about an iPhone deal, was said to have been accompanied by 7 or 8 people, and both Chinese and American flags were said to be on display in the building's lobby.
Back May, China Mobile executives revealed they had reached an agreement with Apple to eventually support the carrier's fourth-generation TD-LTE data network with a future iPhone that would arrive sometime after 2011.However, no specific timeframe for the launch of such a device was given.
"We believe the ramp of the mobile Internet in China will be one of the great wonders of the tech world over the next decade and the country has clearly caught 'Apple fever"'that we believe will only accelerate as the company expands it carrier base to include both China Mobile and China Telecom," White said. "As the largest mobile phone market in the world with 896 million subscribers, we estimate that the high-end mobile phone market in China represents approximately 100-125 million subscribers or a revenue opportunity of ~$70 billion for Apple."