Apple asks ITC to block import of HTC handsets in latest patent complaint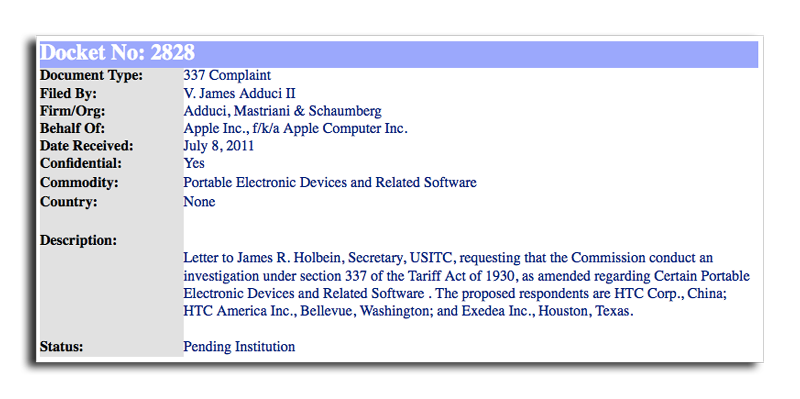 Apple has filed a new patent complaint with the U.S. International Trade Commission, asking it once again to block the import of hardware made by rival smartphone maker HTC.
The complaint was filed with the ITC on July 8, and was revealed through a notice on its official website posted Monday. As noted by Bloomberg, the nature of the complaint was not revealed in the notice, and the document is not yet available to view.
The new complaint, numbered 2828, is categorized with "Portable Electronic Devices and Related Software." Named as proposed respondents are HTC Corp., of China., HTC America Inc. of Bellevue, Wash.
Asking the ITC to ban the import of devices is standard practice when a lawsuit is filed. Similar motions were made in legal spats Apple has had with Nokia and Samsung.
Apple first sued HTC in the ITC in March of 2010, and accused the Taiwanese company of infringing on 20 patents related to the iPhone's user interface, underlying architecture and hardware. In a statement, Apple co-founder Steve Jobs said though competition is "healthy," competitors should not "steal" Apple's technology.
Though the suit was directed at HTC, the complaint specifically targeted a number of phones that run Google's Android mobile operating system, leading many to believe the real purpose of the complaint was to serve as a warning shot toward Google. For its part, HTC fired back with its own lawsuit, accusing Apple of infringing on five patents.
The first complaint filed by Apple against HTC is set to be decided on by a judge on Aug. 5. The findings will the be subject to review by the full commission.
HTC saw an early victory in the case in April, when the ITC staff voiced it support for the company as the trial began. The staff made the non-binding recommendation in favor of HTC, but the actual ruling will be made by ITC Administrative Law Judge Carl Charneski next month, and will then be reviewed by the six-member commission.