Inside Apple's iOS 5: Assistive Touch allows accessible gesture commands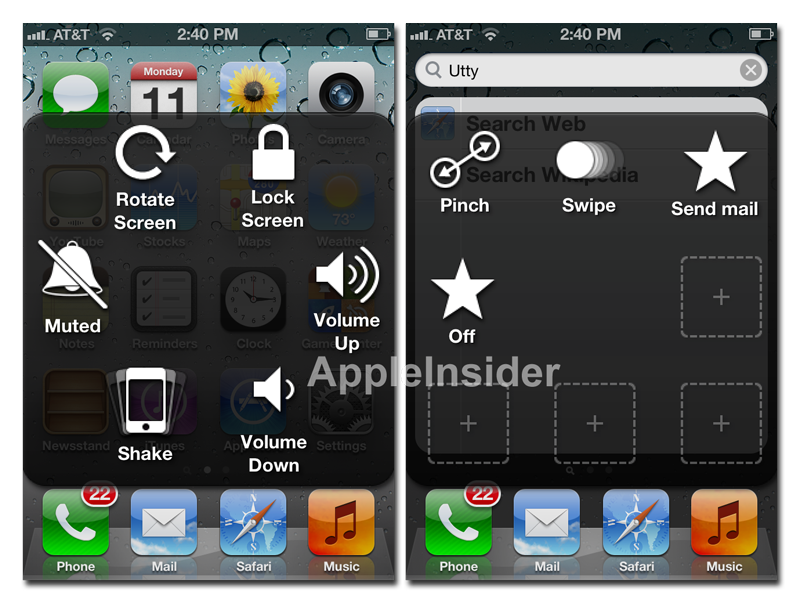 AppleInsider may earn an affiliate commission on purchases made through links on our site.
Available in Apple's latest beta build of iOS 5 is Assistive Touch, a new feature that will allow for quick gestures to be replicated for those who may be at a physical disadvantage.
Assistive Touch is a new interface found in iOS 5 that gives users quick access to certain commands. The new feature was enabled in the third beta of iOS 5 released to developers on Monday.
With Assistive Touch, an overlay menu is displayed that presents the user with commands that usually require certain physical actions, such as rotating the screen or shaking the device. This new feature allows for the iPhone, iPad and iPod touch to be more accessible to those who may not be able to accomplish these tasks.
Using Assistive Touch, users can just tap the onscreen controls using just one finger. Doing this will tell the operating system to do gestures that would usually require the user to do a more complex task, like use two or three fingers.
Other available commands include locking the screen, adjusting the volume, and finger-based gestures like pinch and swipe.
Users can also create custom gestures, tracing certain patterns or movements with their fingers on the screen to accomplish some tasks that may be difficult. These gestures can then be given a name and accessed from the Assistive Touch menu.
As the latest build of iOS 5 is beta software intended only for developer testing, the feature seems incomplete and buggy at present. But its addition is significant for those who may be aided by the addition of Assistive Touch when iOS 5 becomes available for device this fall.
Previously, AppleInsider detailed some of the accessibility features including the custom gestures, which were not yet enabled in earlier beta builds of iOS 5. The new operating system update will also include the ability to enable the iPhone 4's LED flash on calls, and also create personalized vibration alerts.
For more on iOS 5, see AppleInsider's ongoing series, Inside iOS 5. Some of the more recent entries are included below: