Impact of Nokia settlement expected to be seen in Apple's earnings report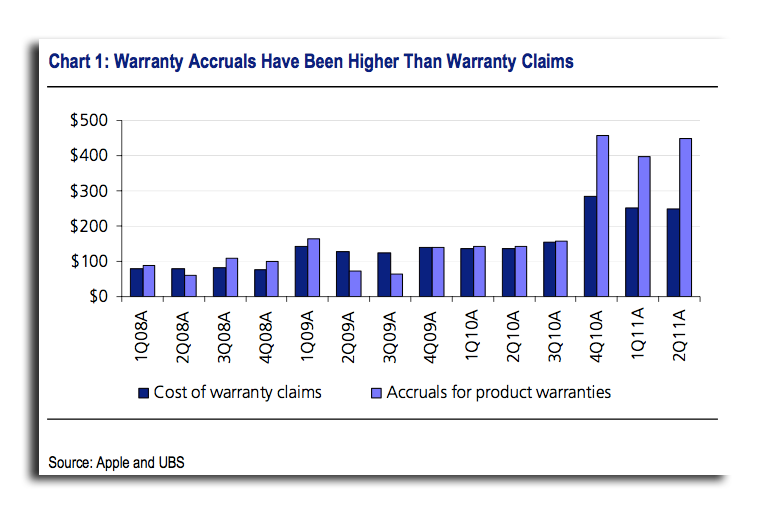 Both Nokia and Apple have remained mum on the financial terms of their patent lawsuit settlement, but a glimpse at the deal Apple was able to broker is expected to be seen in next week's quarterly earnings report.
Maynard Um with UBS Investment Research believes Apple was likely accruing a liability in accordance with generally accepted accounting principles, or GAAP, in anticipation of a settlement with rival handset maker Nokia. It's possible that Apple was "over-accruing" on this liability, a move that could result in a more positive effect on the company's gross margins for the June quarter.
"If Apple had been accruing for Nokia royalties and brokered a more favorable rate, we believe it could see a 1x benefit to gross margins," he wrote in a note to investors on Wednesday. "Conversely, if Apple had not been accruing, the 1x 'catch-up' would likely have an adverse impact."
Um doesn't expect Apple's ongoing royalty payments to Nokia to have a material impact on the company's bottom line going forward.
Apple and Nokia announced in June that they had settled their patent dispute and withdrawn their respective legal complaints. In the deal, Apple agreed to make a one-time payment to Nokia, and also to pay ongoing royalties, though specifics remain confidential.
In his initial analysis, Um said he believes the timing of the announcement suggests the deal was a favorable outcome for Apple. Though he believes Apple's one-time payment to Nokia was probably several hundred million dollars, he also thinks the company may have been "over-accruing" for a possible licensing deal with even higher costs.
In addition to the Nokia settlement, Um sees a number of other potential positive signs for Apple's gross margins in the company's third quarter of fiscal 2011. For starters, sources have reportedly indicated that Apple currently has favorable component pricing while demand remains strong for Macs, the iPhone 4 and iPad 2.
In addition, this year's back-to-school promo offers students and faculty a $100 Mac App Store gift card. In years past, the company offered customers who bought a new Mac a free entry-level iPod touch, which had at least twice the value of this year's offering.
While the change will result in fewer "sales" of the iPod touch, the App Store gift card promotion will help Apple's gross margins going forward. Um also believes that the change is a sign of Apple's increasing emphasis on a consumer's digital life.
"By encouraging users to make purchases on their multiple software and content stores, Apple is fostering a consumer dependence on the company for digital media, content, software etc. that serves to further promote the use and purchase of its hardware in order to seamlessly manage, access and consume this content," he said.
Finally, Um also sees Apple reducing its traditionally conservative warranty accruals, as the company has seen a recent down trend in warranty claims. If those claims continue to drop, he expects that Apple will reduce its reserves accordingly.
Um has adjusted his forecast for the June quarter, and expects Apple to have sold 7.9 million iPad 2 units in the three-month span. He is also calling for the company to announce sales of 7.9 million iPad 2 units when it reports its quarterly earnings next Tuesday afternoon.