Patent suit takes aim at Apple over iPhone, iPad 3G data transfer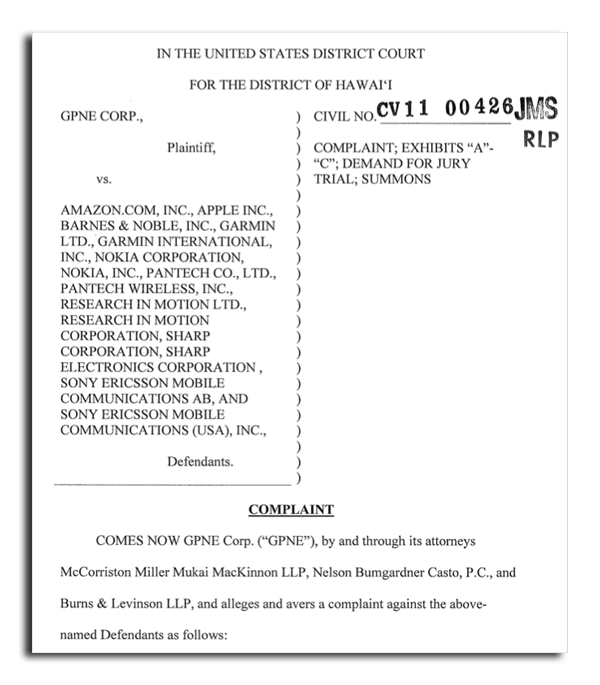 AppleInsider may earn an affiliate commission on purchases made through links on our site.
A new lawsuit accuses Apple and a host of other companies, including Research in Motion, Amazon, Nokia and Sony, of violating three patents related to GPRS 3G data transfer.
The complaint comes from GPNE Corp., based in Honolulu, Hawaii, which has accused Apple and others of infringing on patents related to general packet radio service. As part of the 3G standard for GSM radio frequencies, it allows features such as multimedia messaging, push-to-talk over cellular, always-on Internet access, and point-to-point networking.
The lawsuit accuses "computerized communications devices and computerized tablet devices" manufactured by Apple of infringing on patents it owns. Specifically, GPNE accuses Apple of three counts of patent violation, related to the following inventions:
U.S. Patent No. 7,555,267 - "Network Communication System Wherein a Node Obtains Resources for Transmitting Data by Transmitting Two Reservation Requests"
U.S. Patent No. 7,570,954 - "Communication System Wherein a Clocking Signal from a Controller, a Request from a Node, Acknowledgement of the Request, and Data Transferred from the Node are All Provided on Different Frequencies, Enabling Simultaneous Transmission of these Signals"
U.S. Patent No. 7,792,492 - "Network Communication System with an Alignment Signal to Allow a Controller to Provide Messages to Nodes and Transmission of the Messages Over Four Independent Frequencies"
The first two patents were granted in 2009, while the U.S. Patent and Trademark office awarded the '492 patent in 2010. The filing notes that the inventions were "conceived in Hawaii by two local residents," one of whom, Gabriel Wong, is chairman of GPNE.
The complaint accuses Apple of making and selling portable devices "with the ability to function with GPRS." It specifically names the iPhone 4 and iPad, but is broadly worded to encompass any other 3G-capable devices and models in Apple's product lineup.
In addition to Apple, the full list of defendants in the suit is Amazon.com, Barnes & Noble, Garmin, Nokia, Pantech, Research in Motion, Sharp, and Sony Ericsson. Other devices listed in the suit include the Amazon Kindle, Barnes & Noble Nook, and BlackBerry Torch 9800.
GPNE has asked the court for damages, and to require the defendants to pay "a reasonable, on-going, post judgment royalty" for the right to use technology allegedly associated with the '267, '954 and '492 patents. It was filed in the U.S. District Court for the District of Hawaii on July 1, 2011.