Spotify music service to challenge Apple's iTunes with US launch on Thursday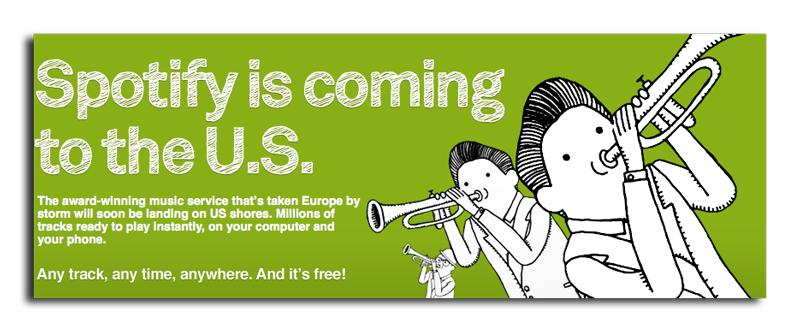 AppleInsider is supported by its audience and may earn commission as an Amazon Associate and affiliate partner on qualifying purchases. These affiliate partnerships do not influence our editorial content.
Starting tomorrow, the much-anticipated European streaming music service Spotify will compete with iTunes on Apple's home turf, offering "any track, any time, anywhere" for free.
The service will launch in the U.S. Thursday morning at 8:00 AM EST, though initial availability will be "by invitation and subscription," according to a press release sent to AppleInsider on Wednesday. Interested customers can pre-subscribe at www.spotify.com ahead of the beta launch.
"Spotify, the award-winning digital music service loved by millions of Europeans, will become available tomorrow morning in the United States by invitation and subscription," the release read. "Spotify is a new way to listen to and manage your music, discover new tracks and share songs and playlists with friends – music whenever you want it, wherever you are."
Further details were lacking, though the company promise more information during tomorrow morning's launch. Paul Miller of This is my next reports having spoken to someone from Spotify, who said customers will have access to a library of 15 million songs, available for free with ads, $5 a month without ads and $10 a month to include mobile access and higher bit rates.
Spotify officially announced that it was coming to the States earlier this month, boasting the availability of "any track, any time, anywhere" for free. Rumors of a U.S. launch have persisted for more than a year.
Last fall, rumors claimed Apple was

">in negotiations

to purchase the company, but Spotify publicly denied the speculation. Apple also reportedly attempted to block Spotify during talks with music executives last year.
For its part, the Cupertino, Calif., company has repeatedly said that its digital storefronts do not generate substantial profits, despite being wildly successful. "Regarding the App Store and iTunes stores, we are running those a bit over break even, and that hasn't changed," Chief Financial Officer Peter Oppenheimer said last year.
Regardless, one analyst foresees iTunes growing to $13 billion in revenues by fiscal 2013 with an expected annual growth rate of nearly 40 percent. Since its launch in 2003, the iTunes Music Store has become the most successful music store in history, with more than 10 billion tracks downloaded.
Despite initial rumors that Apple would introduce its own streaming service, the company instead announced last month iCloud, a cloud-based storage solution that will automatically sync music and other data across a range of devices when it arrives this fall. The free service will by default store all music purchased from iTunes by a customer, while the new iTunes Match service will scan and match a user's personal music library with songs available in iTunes for $24.99 a year.