iPad 2, Verizon iPhone took wind out of Android's sail with developers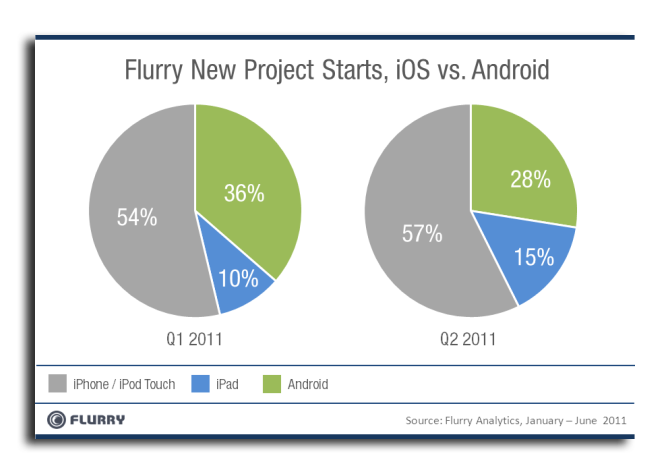 AppleInsider may earn an affiliate commission on purchases made through links on our site.
The launch of the iPad 2 and Verizon iPhone helped Apple's iOS take away some developer support from Google's Android platform, according to a new report.
The number of new project starts on Android from developers dropped from a 36 percent share in the first quarter of calendar 2011 to a 28 percent share in the second quarter, according to the latest data from Flurry Analytics. The information comes from about 20,000 applications that featured Flurry Analytics and were added between January and June of 2011.
The figures suggest that the release of the iPhone on Verizon and the launch of the iPad 2, Apple was able to reverse the advance of Android developer momentum. It represents the first time in a year that the trends have reversed.
Android's losses in new product starts were Apple's gains. The iPhone went from a 54 percent share in the first quarter of 2011 to a 57 percent share, while the iPad increased from 10 percent to 15 percent with a boost in developer interest.
The loss in developer support for new projects, at least according to Flurry, comes as activation of new Android devices continues to surge. In June, Google Vice President of Engineering Andy Rubin revealed that there are now more than a half-million Android devices activated every day, and that number is growing at 4.4 percent worldwide.
But while numerous signs point to the fact that Android devices, available in multiple form factors and configurations from numerous hardware makers, are setting the pace in the mobile industry, Apple is still the dominant player when it comes to mobile applications. The iOS App Store is the largest of its kind, with 425,000 applications, of which 100,000 are natively optimized for the iPad.
Users also download more applications on iOS devices than with the competition. Earlier this month, Apple revealed that it had reached a new milestone with more than 15 billion applications downloaded by users, a number that continues to grow at a rate of one billion per month.
Applications, particularly paid ones, are a crucial element to Apple's success with iOS. Various reports have found that it is much easier for developers to sell applications on Apple's App Store, while software for Android is more likely to be free and supported by advertising.
One analysis from earlier this week concluded that the average iOS user owns about $100 worth of content per Apple device, via purchases made through iTunes and the App Store. It was said that users' investment in software makes it increasingly difficult for them to justify switching to a competing platform, like Android, where they would need to reacquire those applications.
Offering his own take on the data, Flurry's Charles Newark-French said that despite Android's rapidly growing user base, Google needs to improve the layout of the Android Market and drive adoption of Google Checkout for simple payment processing if it wants to compete with Apple's App Store.
"Further, the development community is concerned about the rising cost of deploying across the Android installed base, due to the double whammy of OS and store fragmentation," he wrote. "With developers pinched on both sides of the revenue and cost equation, Google must tack aggressively at this stage of the race to assure that Apple doesn't continue to take its developer-support wind."