Developer frustrated that Apple grants Game Center support to pirated iOS apps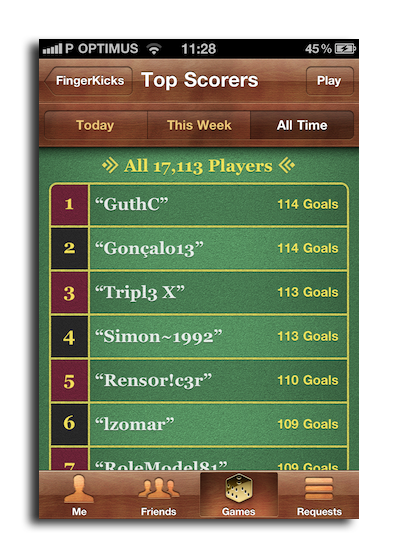 AppleInsider is supported by its audience and may earn commission as an Amazon Associate and affiliate partner on qualifying purchases. These affiliate partnerships do not influence our editorial content.
A game developer victimized by piracy via "jailbroken" iOS devices has expressed frustration that Apple's Game Center service is apparently fully functional for users who run stolen software.
GAMEized, the maker of the 99-cent iPhone and iPad game FingerKicks (iTunes link), told their story in a post on their official site this week. The tale of rampant piracy, highlighted Friday by TechCrunch, reveals that FingerKicks was pirated by 91 percent of those who have played it.
The developer discovered this because those who have stolen the game apparently still have their high scores posted on Apple's Game Center service for iOS. While the soccer-themed game has reportedly sold 1,163 legitimate copies, the developer said at least 15,950 pirated copies have been logged on Game Center.
The number of users who stole the application was helped by the fact that one illicit piracy service showcased FingerKicks as a "featured" game on its main page.
Frustrated by the situation, the developer has publicly questioned why Apple does not at the very least bar users with pirated software from utilizing the Game Center service. A Game Center account is tied to the same Apple ID used to purchase content from the App Store.
"Most bewildering of all is that even with all their rhetoric chastising piracy and intellectual property theft, Apple apparently has no functional counter-piracy safeguards in place on their Game Center — essentially permitting users to play pirated software on their Game Center without fear of reprisals or consequence," GAMEized's Luis Fonseca wrote.
Despite frustration with what was characterized as a "humiliating piracy problem," the developer also added that they are fans of Apple's products and platforms, as evidenced by the fact that their game is exclusively available on iOS.
Users can install pirated software on iOS devices by "jailbreaking" the operating system. Jailbreaking is a warranty voiding process that exploits security holes in iOS in order to allow users to run unauthorized software.
While jailbreaking is legal and can be used for legitimate purposes such as custom themes and modifications to iOS, it can also be used for illegal purposes such as stealing applications from Apple's official App Store. For its part, Apple has warned users not to jailbreak, citing security risks.
The stigma of piracy connected to jailbreaking is not lost on the hackers who work to find the exploits in iOS. The latest browser-based jailbreak released earlier this month even pleads with users: "Please don't use this for piracy."