46% of smartphone buyers prefer Apple's iOS, 32% choose Google Android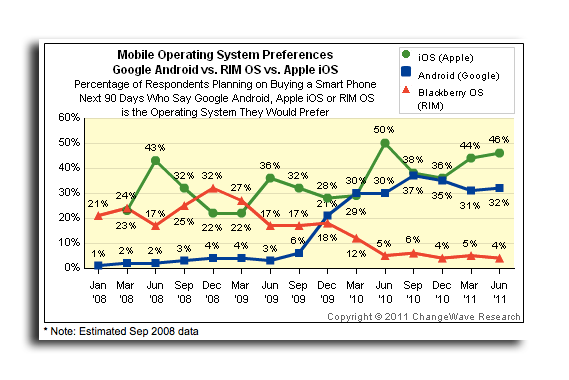 AppleInsider is supported by its audience and may earn commission as an Amazon Associate and affiliate partner on qualifying purchases. These affiliate partnerships do not influence our editorial content.
Among consumers who plan to buy a smartphone in the next three months, the iPhone is the top choice, with nearly half of all prospective buyers choosing Apple.
The data comes from the latest survey from ChangeWave Research via a poll it conducted of 4,163 consumers in June. The survey focused primarily on the smartphone market in North America, with 89 percent of respondents being from the U.S. and 11 percent outside of America.
The survey found that 46 percent of consumers who plan to buy a smartphone in the next 90 days prefer a device running Apple's iOS, which powers the iPhone. That's up 2 points from a poll done in March.
In second place in the latest survey was Google Android, which 32 percent of planned smartphone buyers said they will choose. Google's share also increased since March, growing by one percentage point.
The gains of Apple and Google came at the expense of rivals, as Research in Motion's BlackBerry line lost one point since March. The BlackBerry's 4 percent share is the lowest level ever seen in a ChangeWave survey, and is far away from its high of 32 percent in September of 2008.
The data showing consumer preferences for the iPhone aligns with previous polls that have told a similar story. Last November, ChangeWave reported that 34 percent of non-AT&T smartphone buyers said they wished they could buy Apple's iPhone. At the time, the iPhone was exclusive to AT&T.
The latest survey also tracked the potential impact of Apple's iCloud service, and found it will increase the value proposition of devices like the iPhone. Among current Apple product owners, 29 percent said iCloud will make them "more likely" to buy Apple products in the future, while the same was said by 13 percent of non-Apple product owners.
"This initial look at the impact of Apple's new iCloud service shows it enhancing customer loyalty," the report said. "But the survey also provides highly encouraging signs that iCloud will generate additional customer demand for other Apple products, not only from current Apple product owners but from a substantial number of non-owners as well."
The latest survey also reaffirmed that the iPhone carries the highest satisfaction rate in the industry. When asked about the operating system on their mobile device, 70 percent of users said they are "very satisfied" with iOS, while 50 percent said the same of Google. Just 26 percent said they were satisfied with RIM's BlackBerry OS.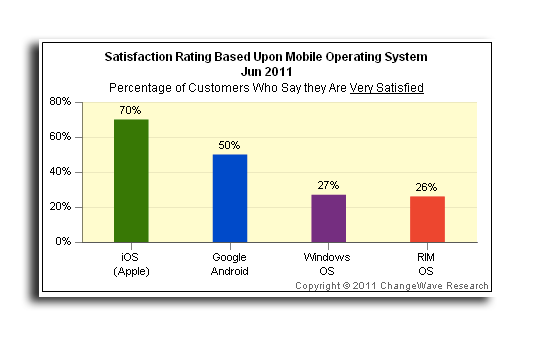 In what was characterized as an "encouraging sign" for Apple's rival Microsoft, the survey found that 57 percent of respondents running Windows Phone 7 said they are "very satisfied." That total is significantly better than the paltry 14 percent rating the previous-generation Windows Mobile OS earned.
"Even so, the higher Windows Phone 7 rating has yet to produce a sustained momentum boost for Microsoft in terms of buyer preferences," the report said.