Review Roundup: Mainstream press calls Mac OS X Lion 'big leap' into iPad era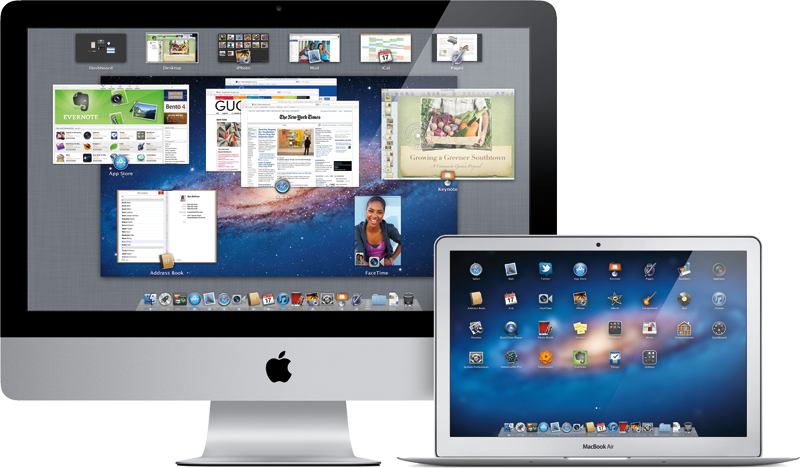 The first mainstream media reviews of Mac OS X 10.7 Lion have praised the upgrade as a "radical" departure that takes a "big leap" into a modern world of tablets and smartphones.
Apple released Mac OS X Lion early Wednesday on the Mac App Store, offering the 3.49GB download for $29.99. Billed as the "best version of OS X yet," Lion includes more than 250 new features, including many brought back to OS X from the iPad, such as full-screen apps; Launchpad, an iPad-like app launcher; and app resumes and autosaves.
The upgrade appears to have quickly gained traction. "People are already downloading like crazy," Apple marketing boss Phil Schiller told The Wall Street Journal in an interview on Wednesday.
Reviewers were unanimously enthusiastic about Lion, though they did find a few minor bugs and glitches during their tests. The journalists were also in agreement that Mac OS X 10.7 ushers the operating system into the post-PC iPad era.
Writing for the Times, David Pogue said Lion adheres to Apple's long-standing "shake things up" philosophy. "It follows an old Apple pattern of embracing what's cool and progressive, and ruthlessly jettisoning what it considers antiquated," he wrote.
For starters, Pogue views Lion's exclusive release on the Mac App Store as "radical." He found the download-only system to have its strengths, such as not having to deal with serial numbers or family plans and not having "discs to store and hunt down later." Though Apple plans to make the OS available on a USB thumb drive in August, the company is clearly pushing the Mac App Store as the preferred method.
"If the Lion upgrade is about any one thing, it's about the iPad," he continued, noting that the iPad's "mega-hit" status came down to two factors: simplicity and the multitouch screen. "In Lion, Apple has gone as far as it can go to bring those factors to the Mac," Pogue wrote.
The reviewer found that, after adjusting to some of the changes, such as the switch to the iPad's style of inverted scrolling, "the iPadization of the Mac" does work. He did, however, have a few minor quibbles, such as having to manually open Launchpad, but otherwise found the Lion makeover "fluid and satisfying."
But, for Pogue, there's also bad news: "a lot of the promise is Apple's wishful thinking." According to him, new features like full-screen mode and autosave "generally work only in Apple programs," while other companies' apps will need to be upgraded.
"The final good news, though, is that you can ignore all of this," he wrote. The new iPad-style features are optional on Lion. "Just this once, Apple isn't dictating the way you have to do things."
Pogue also highlighted several other "nips and tucks" that he found terrific, such as the new AirDrop file transfer process, thoughtful design advances in Apple's Mail application and the new Resume feature.
For all of Lion's plusses, the reviewer pointed out "some good reasons not to rush right away" to upgrade to Lion. For instance, the removal of Rosetta, which allows pre-Intel software to run on newer Macs, may affect some users, especially those who rely on Quicken software. Pogue also encountered "a few bugs" in Lion: "intermittent glitches with the Resume feature, MobileMe syncing alerts, missing menu bars, various Mail features and, on one very special day, dog-slow program opening." However, Apple said the problems were due to a "rare endless-loop iCal upgrade problem" unique to his laptop and promised a fix in an future update.
Pogue concluded that Lion is "classic Apple: innovative to some, gimmicky to others, big leaps forward, a few stumbles back." And, after third-party software makers update their applications to be Lion-compatible and Apple resolves the bugs, "Mac OS X 10.7 might be something even more exotic: a fast, powerful, good-looking, virus-free, thoroughly modern operating system."
In his review for the Journal, Walt Mossberg called Lion a "giant step in the merger of the personal computer and post-PC devices like tablets and smartphones" and a "harbinger of things to come."
Mossberg said he liked the upgrade, after testing it on four Macs, as its new features "make computing easier and more reliable." He had no trouble upgrading, and compatibility with existing apps was "very good," though one app he used will require an update to work in Lion.
The reviewer saw just one crash during his testing. It occurred while using iTunes, but Apple has said that the new iTunes 10.4, which is optimized for Lion, should resolve the issue.
According to Mossberg, the downside to Lion is the "major adjustment" required even for veteran Mac users, though he notes that users of Apple's iPhones or iPads will have an easier time of it. "Just mastering all the new and altered touch-pad gestures—a couple of which are so unnatural I actually had to practice them—will take time," he said.
Tests for the review found Mac App Store download of Lion took under half an hour on a very fast connection and about an hour and a half on a typical one. After downloading, "the rest of the installation took about an hour."
Mossberg also recommended that users download the new Migration Assistant Update, as the older version of Apple's Migration Assistant failed to work when trying to transfer files and settings from a Mac with Snow Leopard to a new Mac with Lion pre-installed. The company also plans to offer a migration feature that will bring data and settings from a Windows PC to a Mac, but the Windows utility wasn't ready in time for the publication's review.
The bottom line for Mossberg is that Lion is a "big leap" that brings the Mac a "much more modern look and feel for a world of tablets and smartphones." For those willing to adjust, "it's the best computer operating system out there," he concluded.
USA Today's Edward Baig called Lion "a beautiful finger-friendly operating system." He found the new multitouch gestures baked into the OS to be "generally intuitive," though he noted that some users may experience "a bit of a learning curve."
Baig found the new Mission Control feature to be particularly useful for the "bird's-eye view" it offered of the system's currently running applications. He also highlighted the new Auto Save and Versions features as modern innovations that will eliminate old habits of having to remember to save files.
The reviewer did encounter some glitches, though, as Lion failed to install on an iMac, which Apple diagnosed as having a "failing hard drive." Also, a MacBook Air that he updated from Snow Leopard "frequently dropped a Wi-Fi connection after the machine was idle for a while." But, according to him, a few snags "are to be expected" during the transition.
"I recommend that most of the Mac faithful feed their computer to the Lions," Baig said, giving the upgrade 3 3/4 stars out of 4.