Adobe notes Lion-related 'known issues'; Samsung and iPad 2; B2B volume apps [u]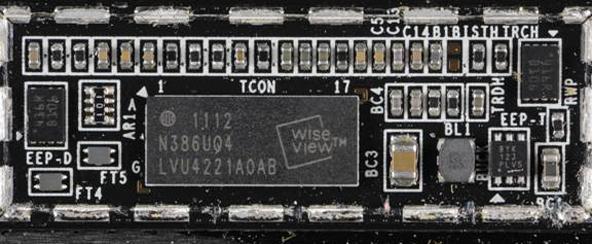 AppleInsider is supported by its audience and may earn commission as an Amazon Associate and affiliate partner on qualifying purchases. These affiliate partnerships do not influence our editorial content.
On the heels of Apple's release of Mac OS X 10.7 Lion, Adobe has published a list of "known issues" with its products on the upgrade. Also, Samsung appears to have taken over for LG in supplying the display driver for the iPad 2. Finally, Apple has officially launched its Business Volume Purchase Program for the App Store.
As noted by TUAW, Adobe posted a Knowledge Base article on Wednesday providing information on which of its products are affected by Mac OS X 10.7 Lion. Apple released Lion on the Mac App Store early Wednesday.
The support article addresses several adjustments across all products, such as the fact that Apple has hidden the user Library folder and now requires manual installation of Java in Lion. In addition, Lion compatibility issues for key offerings from Adobe, such as Acrobat, Flash, Illustrator, Lightroom, Photoshop and Premiere Pro, are listed.
Adobe Flash in particular appears to be having trouble with Apple's latest OS update. "Flash Player may cause higher CPU activity when playing a YouTube video," the article read, suggesting that the issue was "possibly related to disabled hardware acceleration."
Update: Adobe has issued an update to the article, noting that "the final release of Mac OS X Lion (10.7) provides the same support for Flash hardware video acceleration as Mac OS X Snow Leopard (10.6)." The suggestion that video hardware acceleration was disabled in Lion had incorrect ly been based on tests "with a pre-release version of Mac OS X Lion that related to only one particular Mac GPU configuration." The company reiterated that it continues "to work closely with Apple to provide Flash Player users with a high quality experience on Mac computers."
"The Flash Player settings dialog does not respond to mouse clicks. If you find yourself in this state, you can use the "tab" key to change the focus to the "Close" button and use the spacebar to close the dialog. While not all settings are available, you can also use the Flash Player native control panel located in System Preferences," the document continued.
The company also revealed that it is looking into adding new Lion features such as Autosave, Restore, Versioning, Full Screen Mode and additional multi-touch gestures to its offerings. "Since many of these features require new code in order to work properly, Adobe will investigate which ones make sense to our customers for inclusion in future versions of our products," the article read.
Adobe has been slower to adopt new features from Apple. For instance, the company released its first product on the Mac App Store on Tuesday, more than six months after the store opened. The two companies have a complicated relationship, as Mac users purchase roughly half of Adobe's Creative Suite products, while the two also compete in a range of markets.
Last year, Apple CEO Steve Jobs published an open letter criticizing Flash and defending the company's decision to not add support for the technology in the iPad. Adobe CEO Shantanu Narayen fired back by calling Jobs' claims "patently false" and a "smokescreen."
In June, Narayen said the two companies are "done having the argument" over Flash.
Even as reports have emerged that Samsung may be losing some of Apple's semiconductor orders because of a heated legal disagreement, new teardowns have revealed that Apple is now using a Samsung Wise-View display driver chip instead of the LG chip that has been used since the original iPad.
iFixit reported that "Chipworks' latest batch of iPad 2s" contained the new chip, although it's not clear whether all new units of the device have it. The driver apparently has "changed significantly," but the reasons for the change are unknown.
Apple filed a complaint against Samsung in April, accusing the South Korean electronics giant of copying the look and feel of the iPhone and iPad. The two have since traded several shots (1, 2) via federal courts and the U.S. International Trade Commission.
"It has become very public and very ugly, very quickly," Gleacher & Co. analyst Brian Marshall has said. "They're just going after each other's throats."
Business Volume Purchasing
Apple announced on Wednesday that its Volume Purchase Program for Business is now available. The company first teased the program, which provides businesses with a streamlined method of purchasing apps in volume, last week.
Businesses interested in enrolling in the program will need a D-U-N-S number from Dun & Bradstreet, as well as contact information and a valid business address for the company. Currently, only U.S.-based businesses are eligible for the Volume Purchase Program.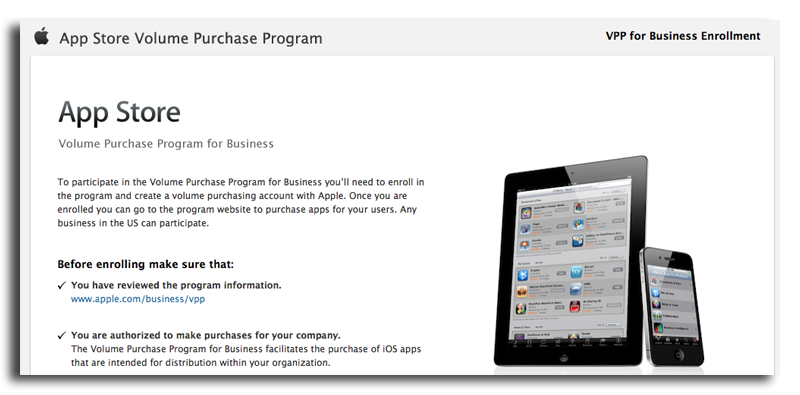 One highlight of the program is a new service that allows developers to sell custom "B2B apps" to business customers. Though the apps will still be subject to the same review guidelines and process as apps bound for the App Store, once B2B apps are approved, developers can privately sell them directly to Volume Purchase Program members.
The Cupertino, Calif., company has seen quick adoption of its iOS devices among the enterprise. Apple revealed on Tuesday that 91 percent of Fortune 500 are using or testing the iPhone as a primary device, while 86 percent of Fortune 500 are deploying or testing the iPad.