MacBook Air shipments strong; Apple eyes InterDigital; Patent group sues again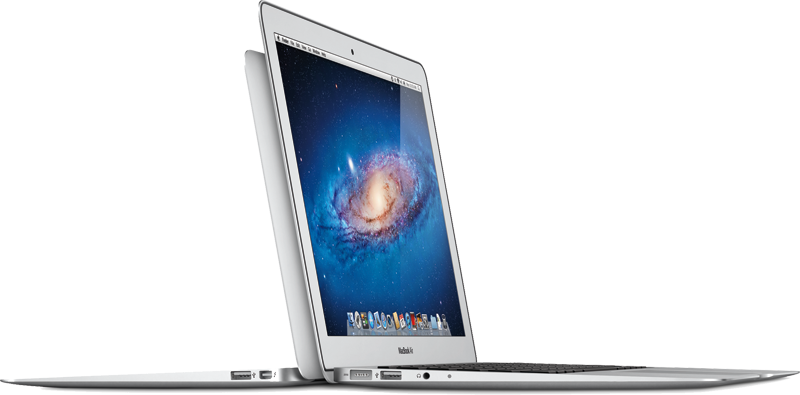 Shipments of Apple's just-released MacBook Air will "remain strong" throughout this summer, possibly topping 1.5 million units, according to industry sources. Meanwhile, Apple is reportedly weighing a bid to purchase InterDigital for its wireless technology patents. Also, a patent licensing group that won $8 million from Apple is now suing for additional royalties, this time from the iPhone and iPad.
Taiwan-based industry publication DigTimes said shipment volume for Apple's third-generation MacBook Air "is expected to remain strong" through the end of August, citing upstream supply chain sources on Thursday. According to the report, suppliers shipped 400,000-500,000 units in June, roughly in-line with numbers AppleInsider reported last month.
The sources went on to estimate that Apple will sell 13-14 million portables in 2011 and could reach as high as 15 million units. They also noted that Apple is the only vendor to provide full shipment forecasts for the first quarter of 2012, as the rest of the IT industry is reportedly being "rather conservative" about demand in the second half of 2011.
Apple released the highly-anticipated refresh to its thin-and-light notebooks on Wednesday, adding Thunderbolt ports, backlit keyboards, and Intel's latest Sandy Bridge processors.
Though Apple announced a blowout June quarter earlier this week, the company's Mac sales of 3.95 million fell slightly below Wall Street expectations. In spite of the miss, Apple's growth rate of 14 percent year over year was more than four times that of the overall PC market, according to recent data from IDC.
Bloomberg reports that, according to people with knowledge of the situation, both Apple and Google are "weighing possible bids" for mobile phone technology designer InterDigital Inc.
The company is said to have 1,300 patents related to wireless device technologies that would be of prime interest to the two rivals. InterDigital said in a statement this week that it had hired bankers to "explore and evaluate potential strategic alternatives" that may include a sale.
William Merritt, CEO for the company, claimed in April that InterDigital's patent's are "deeper and stronger" than Canadian telecommunications equipment maker Nortel's collection.
Apple and a group of companies including Microsoft, Research in Motion and Sony, purchased Nortel's 6,000 patents in an auction late last month for $4.5 billion. Google had teamed up with Intel to bid for the patents, but found itself outgunned by its rivals.
Patent portfolios have become increasingly important among technology companies, with legal experts comparing Nortel's trove to a "nuclear arsenal."
Last week, the U.S. International Trade Commission made an initial ruling that HTC's handsets had infringed on two of Apple's patents. The decision caused a stir when it was discovered that the patents in question may affect "every Android device" on the market.
Some Chinese Android vendors have reportedly turned toward Microsoft's Windows Phone 7 over concerns that the ITC ruling could result in hefty royalty fees for Google's mobile OS.
Last March, Google promised to "stand behind" its Android partners as they faced legal challenges from Apple. Analysts were correct in predicting at the time that the dispute between Apple and HTC would be a "long and bloody battle."
On Tuesday, Google executive Eric Schmidt reiterated his company's support for HTC, vowing to "make sure" that the handset maker did not lose the patent infringement suit. Schmidt also criticized Android's competitors for "responding with lawsuits as they cannot respond through innovations."
Not content with $8 million in damages from Apple over its iPod products, patent licensing company Personal Audio filed a second suit against Apple on Wednesday, accusing "the iPod Nano Generation 6, iPod Shuffle Generation 4, iPod Touch Generation 4, iPhone 4, and iPad 2" of infringing on its downloadable playlists patents, Florian Mueller reports for FOSS Patents.
The company maintains that Apple had agreed to stipulations to reserve products not covered in the original suit for a second lawsuit. "The parties specifically agreed that 'Personal Audio may initiate a separate lawsuit accusing the New Products of infringement of the Patents,'" court documents reveal.
The patent in question is 6,199,076, "Audio program player including a dynamic program selection controller." According to Mueller, damages in this second case could be substantially greater, partly because the plaintiff may be able to claim willful infringement.
Earlier in July, Apple was ordered by a federal jury to pay damages to Personal Audio. The plaintiff had originally asked for $84 million in damages and included several other companies on the suit, but the other defendants besides Apple had settled last year.
Personal Audio has been accused of being a "patent troll" because it is a non-practicing entity and chose to file its suit in East Texas, a district known both for its speed and for its favorable rulings for patent holders.