Apple begins testing over-the-air updates with iOS 5.0 beta 4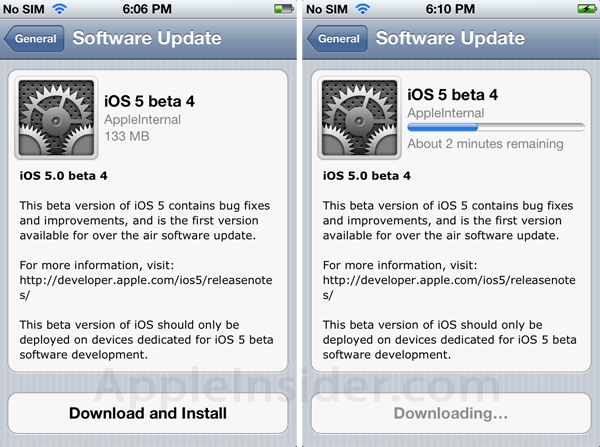 Apple on Friday afternoon released iOS 5.0 beta 4 to developers via the software's new over-the-air (OTA) Software Updater, marking the first time it's tested the functionality externally.
Previously, developers and users would first have to download iOS updates via iTunes or Apple's web-based developer portal, then tether their iOS device to a computer running iTunes in order to apply the update.
Although developers are able to begin downloading the update over a WiFi or 3G connection with low battery life, installation of OTA updates are prohibited unless an iOS device is plugged into a power source or has at least 50% of its battery life remaining — the installation button is simply grayed out (as can be seen below).
Friday's OTA beta is a delta update weighing just 133MB, which saves users from having to download an additional 730.8MB of redundant data that was distributed as part of the previous iPhone 4 GSM release, which weighed in at 863.8MB.
In a set of release notes reportedly accompanying the latest beta, Apple noted that developers using the OTA software update from beta 3 to beta 4 will need to re-sync their photos with iTunes.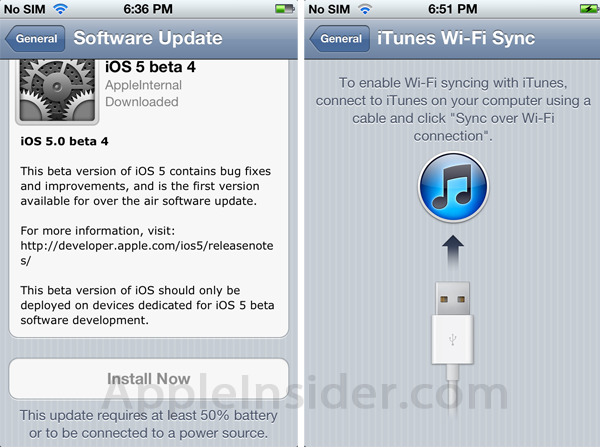 The Cupertino-based company also noted that with iOS 5.0 beta 4, wireless syncing is now available on Windows as well as the Mac and file names in iCloud are case sensitive.
For those developers testing their applications with AirPlay and Apple TV, Apple also reportedly noted that there is no new build for AppleTV for beta 4 of iOS 5 and recommended that developers continue using beta 3 of the Apple TV update.
People familiar with the beta have also noted that some portions of iCloud data syncing are now active. Documents from recent Mac versions of iWork, for example, can now reportedly be synced through the service.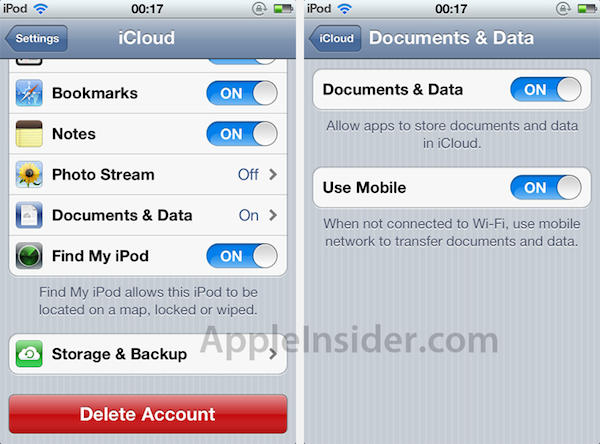 Additional discoveries in the new beta will be reported when and if they become available.