Amazon said to be lining up Taiwanese component suppliers for Q3 tablet launch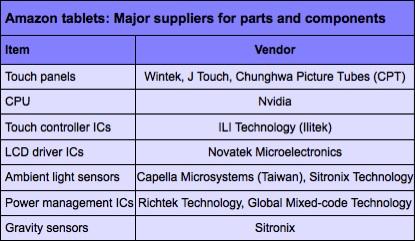 AppleInsider may earn an affiliate commission on purchases made through links on our site.
Reports from the Asian supply chain regarding upcoming tablets from online retailer Amazon have continued to emerge, with industry sources claiming the company is tapping Taiwanese vendors for a launch in the third quarter of this year.
DigiTimes reported on Wednesday that Taiwanese Integrated Circuit design houses are expected to see sales "move up vigorously" in the September quarter ahead of the rumored launch of a line of Amazon-branded tablets.
Industry sources said the company is planning 7- and 10-inch tablets. The Wall Street Journal reported earlier this month that Amazon was outsourcing a "roughly nine-inch screen" tablet to an Asian manufacturer and planning a touchscreen version of its Kindle e-reader, which could correspond to the 7-inch device that supplier sources have suggested.
According to DigiTimes sources, the tablet will be assembled solely by Quanta, with Chunghwa Picture Tubes supplying touch sensors for the supposed 7-inch model. The report claimed 2.0-2.4 million touch panels will be shipped to Amazon by the end of September, with Wintek accounting for 70 to 75 percent of the volume. The company reportedly expects to ship a total of four million tablets this year.
Other suppliers rumored to providing components for the project include: Nvidia (CPU; ILI Technology (Touch controller ICs); Novatek Microelectronics (LCD driver ICs); Capella Microsystems and Sitronix Technology (Ambient light sensors); Richtek Technology and Global Mixed-code Technology (Power management ICs); and Sitronix (Gravity sensors).
Sources: Industry sources, compiled by Digitimes, July 2011
Sources added that Amazon's heavy use of Taiwan-based IC suppliers will enhance the companies' "competitiveness against international IC players later on."
The much-anticipated Amazon tablet has been proclaimed by some to be the biggest threat to Apple's dominance in the tablet market. Pundits view Amazon's music, e-book, video and app stores as a counter to the iTunes ecosystem that has helped Apple achieve immediate success with the iPad.
Rumors of the tablet emerged earlier this year. However, it has been said that Amazon could face production difficulties with its tablets, as Apple has reportedly booked up the majority of available tablet-sized touch panel production capacity through the end of the year.