Apple's iPhone, iPod accused of violating media patents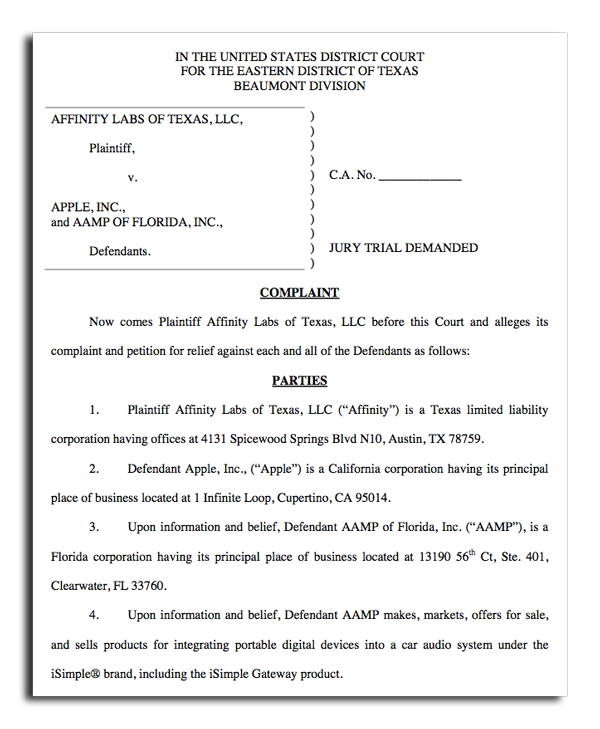 A patent holder that last sued Apple in 2009 has targeted the iPhone maker again, this time accusing the company of violating two patents related to media playback.
Affinity Labs last sued Apple in 2009, accusing the company of violating three patents related to streaming and downloading of content. This week, the company fired another shot, accusing Apple of violating two more patents:
The lawsuit specifically cites the "iPhone, iPod touch and iPhone line of products," claiming that the audio systems found in Apple's portable devices violates the '228 patent. Only the iPhone is accused of violating the '595 patent.
Also named in the complaint, filed in U.S. District Court for the Eastern District of Texas, is AAMP of Florida Inc., a company that makes products designed to integrate portable digital devices into car audio systems. Named in the suit are its products under the "iSimple" brand, including the iSimple Gateway product.
Affinity Labs seeks damages from the court, as well as applicable attorneys' fees, and has asked that both Apple and AAMP be prohibited from further alleged infringement. The lawsuit was filed in court on Tuesday.
The official website for Affinity Labs describes it as an "innovation company" that "can be the key to your future."
"We generate new product and business ideas and consult on intellectual property matters to help protect those ideas," the company description reads. "And while we love the role of innovator, our most valuable service may lie in fostering the innovation skills of others."