Android giving away most software but Apple selling most smartphones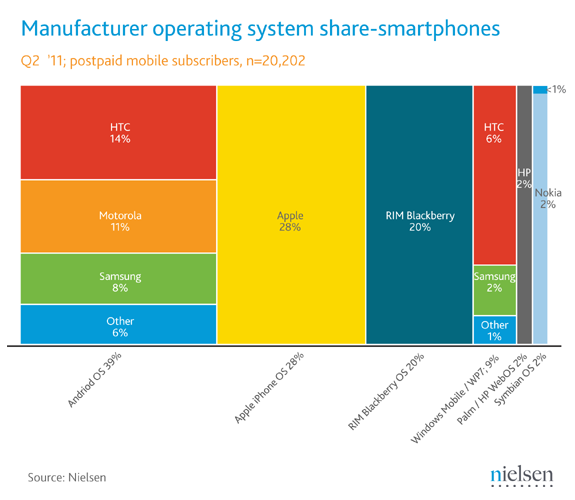 AppleInsider may earn an affiliate commission on purchases made through links on our site.
The Android software platform led by Google is now installed on 39 percent of US consumer smartphones, but Apple remains the largest smartphone manufacturer with the iPhone (at 28 percent) and RIM is second largest with Blackberry (20 percent).
The results, tabulated for June 2011 by Nielsen, show widespread use of Android by HTC, Motorola, Samsung and other smartphone makers, whose combined use of Android makes it the largest smartphone platform in the US.
Adding in Apple's other mobile devices, including the iPad and iPod touch, continues to leave iOS as the largest mobile platform in the country and globally, particularly given the poor showing for Android-based tablets and other non-smartphone devices compatible to Apple's iPod touch.
Google's free-to-implement Android platform has largely replaced the use of other smartphone platforms based on Linux, Java and Flash, which historically have served as the mainstream platform for mobile devices prior to iPhone.
Even so, despite being the largest smartphone platform, Android, like Sun's Java ME before it, has failed to attract the same kind of attention from developers and buyers as Apple has cultivated for iOS though its App Store, instead developing a reputation for Android as a platform where there is little money to be made because nobody wants to pay for commercial Android software.
Microsoft's share of smartphones in the US has plummeted from a share once similar to Apple's current slice to a narrow 9 percent, split between HTC, Samsung and other Windows Phone 7 licensees. Adding HTC's Android business with its WP7 market results in giving that manufacture a position roughly tied with RIM as the second place US smartphone maker, at 20 percent of all devices sold in the country.
Motorola and Samsung both make up 10 to 11 percent of US smartphone sales, and when combined with all other Android and WP7 licensees apart from HTC, amount to a share about equal with Apple's iPhone sales.
Apple's ability to continue to command a leading share of the US market four years after the launch of iPhone is difficult to fathom given the company's late entry into what was assumed to be a crowded, mature, and highly competitive market. Apple is also limited to the two major carriers, AT&T and Verizon Wireless, preventing iPhone from being able to reach a significant portion of US market.
Other companies with a much longer history in the mobile business have failed to put even a dent into the US smartphone market, including Nokia's tiny 2 percent share with its Symbian based phones (long a global leader outside the US), and HP's 2 percent share from its acquired Palm WebOS business.
Despite its distant manufacturing lead in the US, Apple's iPhone fortunes are largely tied to international sales, where iPhone growth has occurred even faster, leaving US sales to amount to just 30 percent of the company's smartphone sales.