UBS ups 2011 iPad estimate to 37.9M, 63% market share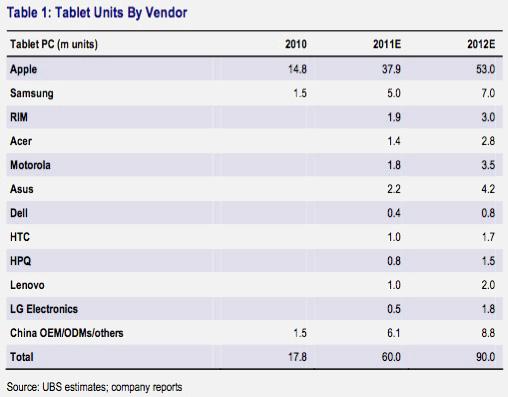 AppleInsider is supported by its audience and may earn commission as an Amazon Associate and affiliate partner on qualifying purchases. These affiliate partnerships do not influence our editorial content.
Analysts for investment bank UBS raised their 2011 forecast for Apple's iPad on Wednesday, predicting total sales of 37.9 million units for a projected 63 percent market share.
Maynard Um issued a note to investors, noting that checks had indicated "soft sell-through for non-iPad tablets." He sees growth in the tablet industry being driven primarily by Apple's touchscreen tablet.
"The tablet market has seen a significant increase in shelf space and competition in the past quarter," Um said, adding that there is "limited visible differentiation" between non-iPad devices. Based on anecdotal retail checks, Samsung and Asustek are stand-outs, while Research in Motion and Hewlett Packard "do not appear to be gaining any critical mass."
According to his calculations, Samsung will sell 5 million tablets in 2011, while Asus is expected to sell 2.2 million. Meanwhile, RIM and HP are projected to sell 1.9 million and 0.8 million respectively.
"Although it is still early, a key risk for the industry could be on inventory correction, particularly for those vendors that are seeing more limited demand," Um wrote.
Looking ahead to 2012, the analyst raised the firm's forecast to 90 million, up from 80 million. UBS expects Apple to sell 53 million next year, leaving the company with a 58 percent share of the market. In the first half of calendar 2011, Apple sold 13.94 million iPads.
Um's upward revision of tablet estimates brings the device's ramp in line with the early stages of the LCD TV market. However, the analyst believes that tablet growth is being driven by utility and broader distribution, rather than the "mass market" pricing that spurred TV sales.
Retail channel checks show that "most stores have moved tablets to prime positions," with retailers like Best Buy created a separate "Tablet Zone" in their stores. According to Um, stores have cleared out older PC inventory and shelf space in order to make room for tablet displays. But, in spite of the increased visibility, he noted that "channel sell-in and sell-through appear likely to be two different stories for the majority of vendors not named Apple."
"Apple continues to dominate the tablet market with its iPad portfolio," he added. "At all retail channels we checked it was by far the most popular tablet being asked about, tested, and bought by consumers."
Alongside the bump in projected tablet sales, Um adjusted PC estimates for 2011 downward. He sees year over year PC growth coming in at 4.5 percent this year, compared to a previous estimate of 6.3 percent. After checking with PC retailers, Um does not expected to see "more aggressive promotions or buying in earnest until early September."