Apple's 142% iPhone growth outpaces mobile phone market by 12x in Q2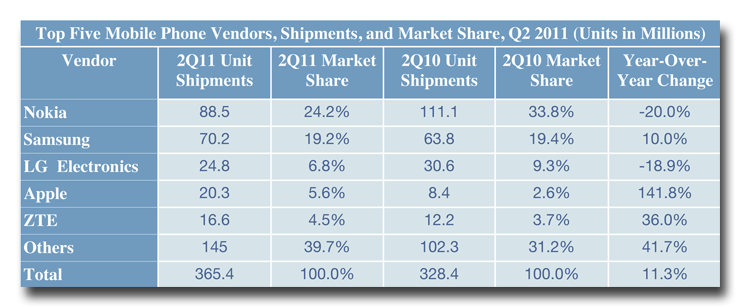 A massive iPhone shipment increase of 141.8 percent year over year gave Apple a growth rate more than 12 times that of the global mobile phone market in the second quarter, leaving the company poised to overtake LG as the No. 3 handset maker in the world.
IDC released the results of its quarterly Worldwide Mobile Phone Tracker on Thursday, noting that the worldwide mobile phone market grew 11.3 percent year over year. In fact, without taking Apple into account, the global market grew just 7.8 percent. The research group had forecast 13.3 percent growth for the quarter.
Apple's record shipments of 20.3 million were enough to give it a 5.6 percent share of the market, up from 2.6 percent a year ago. The iPhone maker maintained the fourth-place spot that it achieved last quarter, while climbing within striking distance of third-place LG, whose shipments fell 18.9 percent to 24.8 million.
Despite a 20 percent decline in shipments from a year ago, Nokia managed to hang onto the top spot among mobile vendors with second quarter market share of 24.2 percent and shipments of 88.5 million. Samsung's modest 10 percent growth fell behind the market, leaving it with 19.2 percent of the market.
Rounding out the top five was Chinese handset maker ZTE, which grew to 4.5 percent of the market on shipments of 16.6 million phones.
Source: IDC, Worldwide Mobile Phone Tracker
Analysts with the firm noted a contracting feature phone market as the smartphone has gained traction around the world. Year over year, feature phone shipments fell by 4 percent, the first decline since the third quarter of 2009.
"The shrinking feature phone market is having the greatest impact on some of the world's largest suppliers of mobile phones," said IDC senior research analyst Kevin Restivo. "Stalwarts such as Nokia are losing share in the feature phone category to low-cost suppliers such as Micromax, TCL-Alcatel, and Huawei."
The Cupertino, Calif., company "thrived in China" due to strong demand for the iPhone 4, the report pointed out, while adding that the company's ability to "bring its smartphone momentum to developing economies" will dictate its "smartphone fortunes" in the future.
"For the overall market to grow by double digits year over year, despite the decline in feature phones, is testament to the strength of the global smartphone market," noted Ramon Llamas, senior research analyst with the firm's Mobile Phone Technology and Trends team. "While this is not a new trend – smartphones have been the primary engine of growth for the last several quarters – it does mark something of a transition point, as demonstrated by the growing number and variety of smartphones featured in the vendors' portfolios."