HP slashes iPad-competing TouchPad price to $399 1 month after release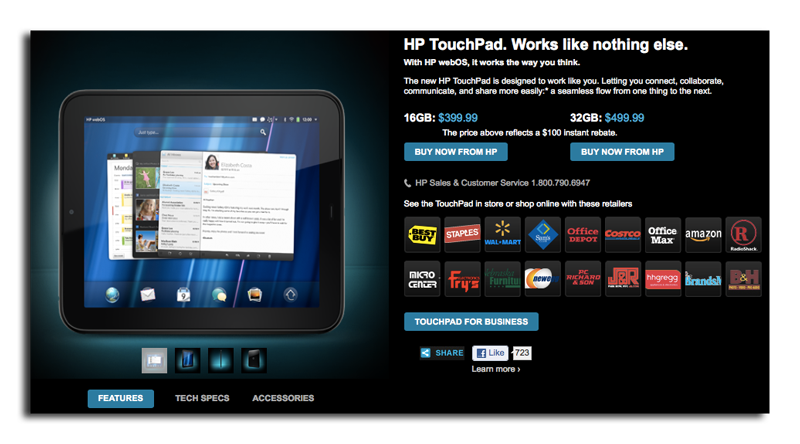 Just over a month after the HP TouchPad hit the market, its price has been cut by one-fifth for a special weekend sale intended to boost sales of the iPad-competing tablet.
Starting Friday and through the weekend, HP is selling its TouchPad for $399.99 for the 16GB model, and $499.99 for the 32GB capacity. The prices, available through HP and at all major retailers, are with a $100 instant rebate.
The PC maker has not shed any light on sales of its tablet, but the discount, which undercuts Apple's iPad by $100, comes soon after the July 1 launch of the hardware, suggested it has gotten off to a slow start.
The weekend sale is being pushed in concert with a TV campaign advertising the limited-time price. And TouchPad is even cheaper at Amazon-owned deal-a-day site woot.com, where the tablet is being sold for $379.99 on Friday only.
When it debuted last month, the TouchPad was met with mediocre reviews that praised the device for its hardware design, but felt the webOS software powering it was lacking. While reviewers were impressed with the TouchPad's looks, they took issue with the tablet's weight, bugs and lack of applications.
Those reviews prompted former Palm Chief Executive and current HP executive Jon Rubinstein to send a letter to employees in which he suggested that media criticism of its webOS operating system on the TouchPad is similar to complaints reviewers had with early versions of Mac OS X. Those early reviews characterized Apple's software as "sluggish," without any "quality apps," and "just not making sense."
"It's hard to believe those statements described Mac OS X — a platform that would go on to change the landscape of Silicon Valley in ways that no one could have imagined," Rubinstein wrote, highlighting what he sees as the "potential for greatness" in webOS.
HP executives have qualified the TouchPad's position in the market, saying they don't expect the first-generation device to dethrone Apple's market-leading iPad. Last quarter, Apple sold a record 9.25 million iPads.
Competitors have scrambled to attempt to replicate the success Apple found on the market almost immediately with the iPad. But sales of devices like the RIM PlayBook and Samsung Galaxy Tab have failed to compete with the iPad, which was said in May by Nielsen to control 82 percent of the tablet market in the U.S.