Apple briefly passes Exxon as world's largest company by market cap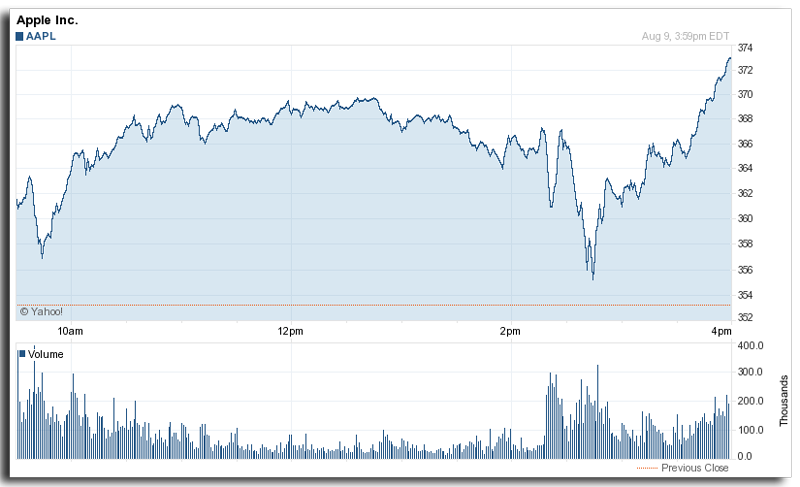 During a volatile day of trading on Tuesday, Apple briefly passed oil giant Exxon Mobil to become the most valuable company in the world, in terms of market capitalization.
AAPL stock closed the day below XOM with a market cap of $346.74 billion, pushed 5.45 percent higher by a 19.26-point increase in the stock price. Apple ended the day trading at $372.47 per share.
Exxon finished Tuesday retaining its title as the largest company in the world by market cap, a claim it briefly lost during trading on Tuesday. Exxon finished the day with a market cap of $352 billion, its stock having recovered from losses to go up $1.41 for the day, or 2.01 percent.
Apple's brief stay at the top on Tuesday came faster than most expected. The iPhone maker was separated from Exxon by about $70 billion only a few weeks ago.
Now only a few billion dollars sit between the market caps of Exxon and Apple, leaving the companies in a position to potentially swap places once again. Apple remains the No. 2 largest company in the world, having passed PetroChina Co. last September.
Apple surpassed its rival Microsoft in May of 2010 when its market cap reached $222 billion, but the iPhone maker has since left its rival in the dust. Microsoft's market cap Tuesday afternoon hovered around $210 billion.
AAPL trading prices from Tuesday. Chart via Yahoo.
By consistently turning in record quarters that exceed investor expectations, Apple has seen its stock pushed to new heights in recent weeks. In its last quarter, Apple's profits grew 125 percent year over year with record sales of 20.34 million iPhones and 9.25 million iPads.
And while Apple's market cap blew past Microsoft some time ago, the company surpassed the Redmond, Wash., Windows maker in terms of both quarterly sales and profits in April of this year. Prior to that, Microsoft had posted less revenue but greater profits than Apple.