Amazon Kindle Cloud Reader uses Safari to bypass Apple's App Store rules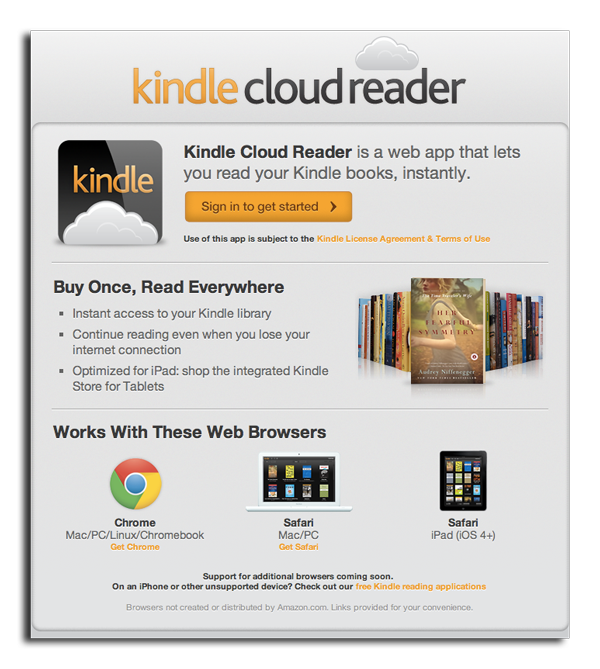 After changes to Apple's App Store policies prompted Amazon to remove a link from its Kindle application to buy new books, the online retailer has launched a new browser-based "Cloud Reader."
The Kindle Cloud Reader works in the Mobile Safari Web browser on an iPad running iOS 4 and up. It's also compatible with Apple's Safari browser on Mac and PC, as well as Google Chrome across a range of devices.
The new Web application allows users to read their Kindle books, and also includes links allowing users to purchase and download new books. Users can also enable an offline mode that allows titles to be read when a connection is not available.
The "Buy Once, Read Everywhere" Kindle Cloud Reader is highlighted by Amazon as having the following features:
Start reading over 950,000 Kindle books instantly within your browser
An embedded Kindle Store optimized for your web browser makes it seamless to discover new books and start reading them instantly
New Kindle Store for iPad is built from the ground up for iPad's touch interface
Your current book is automatically made available for offline use, and you can choose to save a book for reading offline at any time
Receive automatic software updates without the need to download new software
Select any book to start reading, customize the page layout to your desired font size, text color, background color, and more
View all of the notes, highlights, and bookmarks that you've made on other Kindle apps or on Kindle
Sync your last page read across your Kindle and free Kindle apps so you can always pick up where you left off
As noted by TechCrunch, the software "feels like a native app," even though it is based entirely through the browser. Offline reading of books is made possible through Apple's support of HTML5 in Mobile Safari.
"The iPad version is especially good because the store is fully optimized for the device," author MG Siegler wrote. "And you can easily switch back and forth between the store and your own library."
Amazon removed purchasing options from its iOS Kindle application in July after Apple began enforcing a new policy banning links to out-of-app purchases. The move was made to ensure that cannot bypass the 30 percent cut Apple takes of content sold within applications on its App Store.
A number of other companies, including The Wall Street Journal, Barnes & Noble and Kobo were also affected by the changes. Developers had months to comply with the rules, which Apple announced in February with changes to the iOS terms of service.
Apple softened its stance in June, when the company decided it would allow out-of-app purchases to have lower prices than those made available with in-app purchasing. Previously, the company had required that subscriptions sold outside of the App Store umbrella, where the company does not receive a 30 percent cut, to be "at the same price or less than is offered outside the app."
But content providers like Amazon who do not want to give Apple a 30 percent cut of sales opted instead to remove the "buy" button from their application. Customers can still visit websites through the Safari browser on the iPhone and iPad to buy content that syncs with applications like Kindle, though Amazon's new Web application negates the need for using the native software, if users so choose.
Amazon also competes with Apple in the e-reader market in selling its own dedicated Kindle-branded device. Unlike Apple's touchscreen tablet, which offers a full-color LCD display with in-plane switching, the Kindle hardware relies on e-ink, which is black and white but offers longer battery life and superior readability in sunlight.
The online retailer is expected to create a more iPad-like device that will debut later this year, with hardware claimed by The Wall Street Journal to be a 9-inch Android-based tablet with a color display. The new device will allow users to watch movies and listen to music, in addition to reading e-books, and is hoped to drive the sales of content from Amazon.com.