Apple's iOS and Google Android swell to 62 percent of smartphone market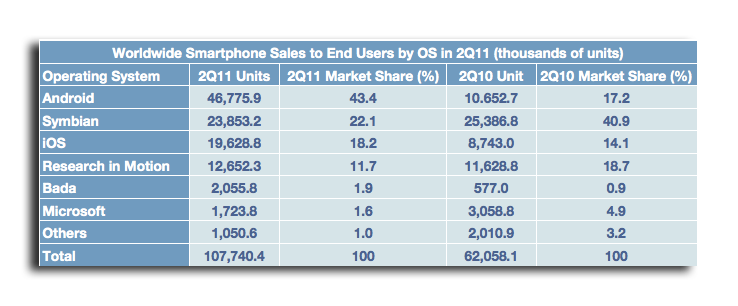 AppleInsider is supported by its audience and may earn commission as an Amazon Associate and affiliate partner on qualifying purchases. These affiliate partnerships do not influence our editorial content.
Apple's iOS and Google Android have more than doubled their collective smartphone market share in the last year, and now represent nearly two-thirds of all devices sold, according to Gartner.
The research firm's latest figures show sales of smartphones by operating system in the second quarter of 2011. Android, available on a number of devices from multiple manufacturers, is the top platform, with 46.8 million units sold amounting to 43.4 percent of the market.
Gartner's numbers show that Nokia's soon-to-be-abandoned Symbian platform stayed in second place, with 23.9 million units sold and a 22.1 percent share. That placed Apple's iOS in third, with 19.6 million smartphones sold in the quarter, good for 18.2 percent of the market.
The numbers released Thursday by Gartner stand in contrast to other recent sales reports. Specifically, earlier this month Canalys declared Apple's iOS the world's second-largest smartphone platform, ahead of Nokia's Symbian, with a 19 percent market share.
Roberta Cozza, principal research analyst at Gartner, said Nokia retained its place as the No. 2 platform by volume came because of a combination of sales efforts and greater concentration in retail and distributors' sales. It is expected that Apple will unseat Nokia, in Gartner's numbers, in the next quarter.
"We will not see a repeat of this performance in the third quarter of 2011, as Nokia's channel is pretty lean," Cozza said.
Gartner's analysis found that Apple exceeded expectations, thanks in part to the iPhone becoming available on 42 new carriers and in 15 additional countries in the second quarter of 2011. The iPhone is now available in 100 total countries.
The totals included in Gartner's figures represent what the firm claims are sales of units to end users. That's why Gartner's figure of 19.6 million iPhones sold is less than the 20.34 million that Apple actually shipped in the June quarter.
The research firm declared both Google and Apple the "obvious winners" in the worldwide smartphone market, accounting for 62 percent of all sales together. That's double the 31 percent the two combined for in the second quarter of calendar 2010.
Gartner analysts said that both iOS and Android have "usability that consumers enjoy, the apps that consumers feel they need, and increasingly a portfolio of services delivered by the platform owner as well."
In hardware sales, including smartphones and traditional cell phones, Gartner found that Apple's 19.6 million units sold to end users was good enough for fourth place, with a 4.6 percent total market share. Nokia was the market leader with 97.8 million units sold, representing 22.8 percent of the market, while Samsung came in second with 69.8 million sales and 16.3 percent. LG was in third with 24.4 phones sold, representing for 5.7 percent.
"Smartphone sales continued to rise at the expense of feature phones," Cozza said. "Consumers in mature markets are choosing entry-level and midrange Android smartphones over feature phones, partly due to carriers' and manufacturers' promotions."
Of course, total unit sales only tell a part of the story. Last month, an analysis of mobile phone industry profits found that Apple takes two-thirds of all profit in the entire industry.