Apple's online store gets social links amid server troubles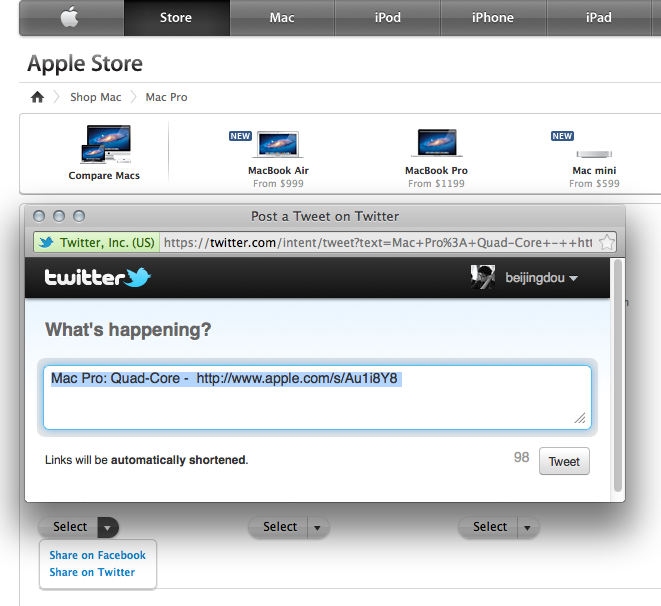 Apple added new share on Facebook and Twitter links to its online store amid server woes that caused intermittent downtime on Wednesday.
The new sharing links are located next to the "Select" button when choosing a specific system or configuration on Apple's online store. However, the Cupertino, Calif., company appears to be rolling out the feature gradually, as not all products in its store feature the links.
The Share on Twitter link opens up a Twitter window with the pre-populated name of the product and a link to the Apple online store, while the Share on Facebook link opens a Facebook window with a thumbnail of and link to the product.
As the two social services have grown, Apple has worked to integrate their offerings into its own products and website. Apple added system-wide Twitter integration to iOS 5, which arrives this fall. Leaked videos of an alleged iPhone prototype suggest that the company also looked into Facebook integration at the system level.
Early on Wednesday, Apple began experiencing trouble with the online store, bringing the site down for several hours. Later in the day, the store came back up, but service remained spotty throughout the day. It's not immediately clear whether the downtime was a result of the changes being made to the store or a separate issue.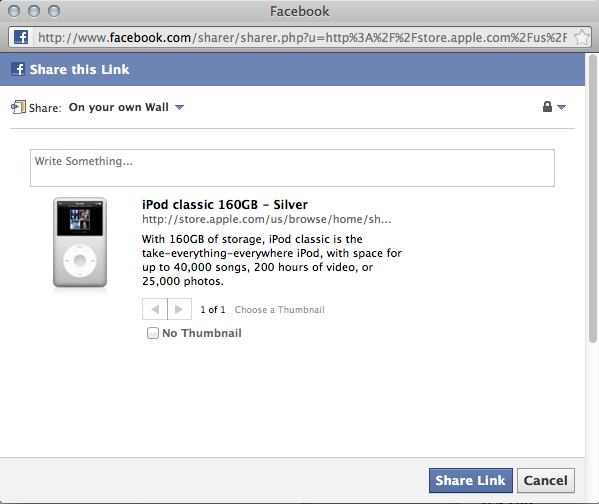 Apple has made minor tweaks to the online store in recent months. In July, the company upgraded the Online Order Status page to "enhance the overall look, feel, and functionality for a better customer experience," according to an internal memo.
Ahead of the release of a new retail initiative in May, Apple took parts of its online store down to update its systems. Last year, Apple quietly added a "Compare Macs" option to its website.