Proposed Apple Store in Santa Monica features giant curved glass ceiling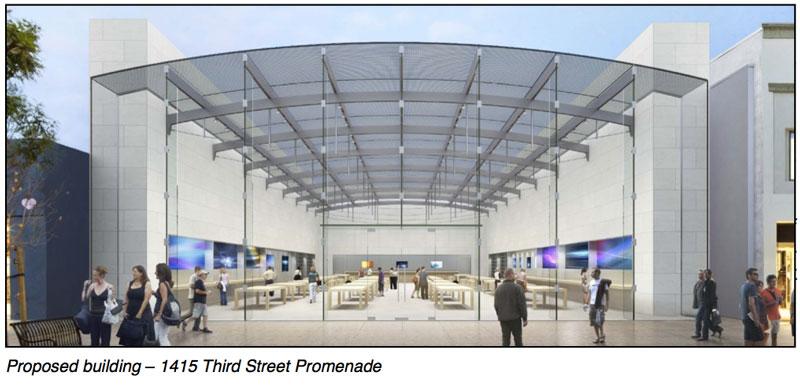 Apple is expected to propose a major new retail store in Santa Monica that would feature a large curved glass roof allowing the California sun to illuminate the shopping space.
The plans make no specific mention of Apple, referring only to "the applicant," but the designs clearly show the traditional minimalist layout of an Apple Store inside. The proposed building, first discovered by Curbed (via MacRumors), would be 8,084 square feet.
Located on the Third Street Promenade, the shop would replace an existing three-story building that was home to a Borders Bookstore. The 34-foot-high store would feature a transparent glass ceiling, allowing shoppers to see the sky above.
The illustrations for the project were revealed in a Santa Monica Planning Commission meeting agenda. That meeting is set to take place tonight.
The applicant for the project is listed as ASB/Blatteis Promenade Holdings, who purchased the property in September of 2010. The design for the project must receive approval from the city's Architectural Review Board.
The proposal also reveals the unnamed applicant will encourage its employees to use alternative transportation to get to work, offering a $100-per-month transit subsidy toward public transportation fares, as well as a $20-per-month bicycle reimbursement. Bicycle parking has also been proposed for inclusion at the facility's basement level.
The curved glass roof at the proposed store is similar to one already found at the Apple Store in New York's Upper West Side, which opened in 2009. That storefront is also taller, at 54 feet, versus the 34-foot height proposed in Santa Monica.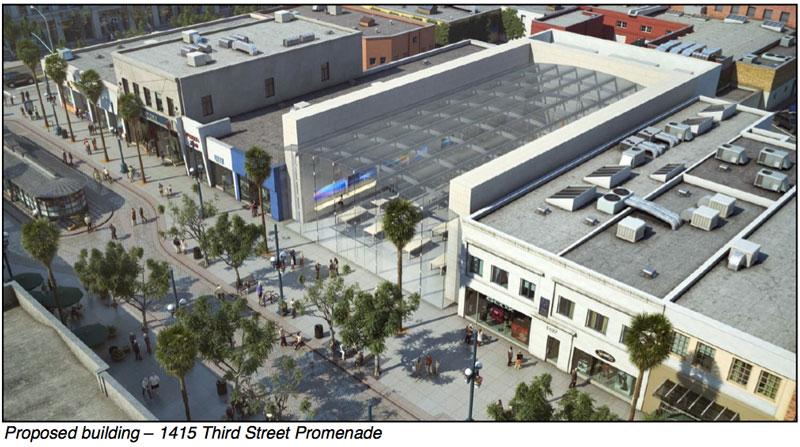 Curved glass is also a central component of Apple's so-called "spaceship" corporate headquarters, given that moniker because the proposed facility would have a massive circular shape. That structure, awaiting approval from the Cupertino, Calif., city council, would use curved glass all the way around its exterior.
"There's not a straight piece of glass in this building," Apple Chief Executive Steve Jobs said in a presentation to the city council in June. "We've used our experience in building retail buildings all over the world. We know how to make the biggest pieces of glass for architectural use."