Apple seeking EU ban of all Samsung Galaxy smartphones, tablets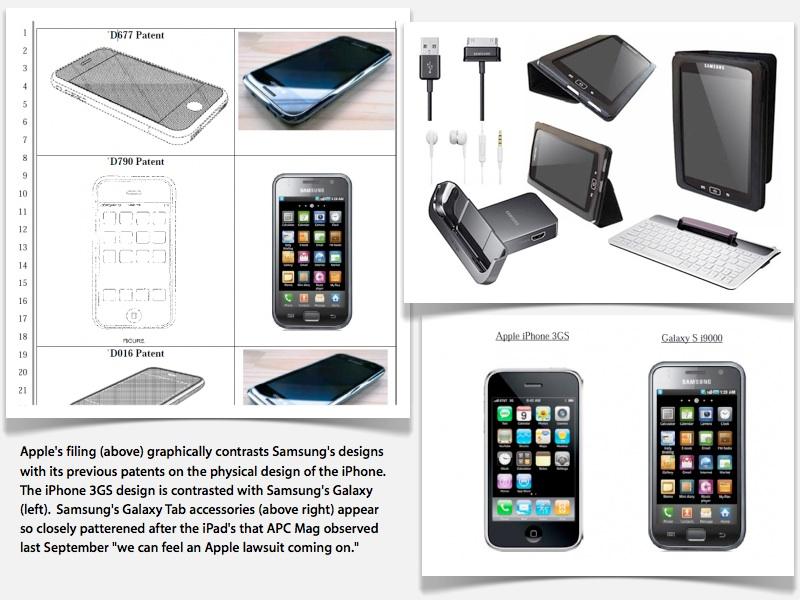 Following up on initial action seeking an injunction against Samsung's Galaxy Tab 10.1 in Germany, Apple has filed a new complaint against a broad range of Samsung Galaxy branded smartphones and tablets in the Netherlands.
Apple was already granted a preliminary injunction against the Galaxy Tab 10.1 tablet by a German court, under the concept of infringement of a registered design. That ruling did not pertain to the Netherlands however, which does not offer the same legal protections over product designs as German law does.
Apple's initial injunction originally applied to all of Europe apart from the Netherlands, but was later limited to Samsung's German subsidiary by the court after it said it was not sure if it had the jurisdiction to apply the ban to a Korean company.
Apple's new, parallel filing in the Netherlands pertains to patent infringement rather than just copying design elements, and goes far beyond the German filing in both scope and intent. While the German ban only applies to the Galaxy Tab 10.1, and only prevents Samsung's German subsidiary from importing new models, it did not prevent existing inventories from being sold.
However, Apple's new filing demands an injunction against sales of essentially all of Samsung's Android-based smartphones, including the Galaxy Ace, Galaxy S and Galaxy SII, as well as the original Galaxy Tab 7 and new 10.1 tablets, according to a report by Computerworld.
It also extends to other related models, such as the Google-branded Nexus S, and the Samsung Gio, Europa, Appolo, and Mini, of which Apple says, "It is expected that these devices are also covered by one or more of the patent rights invoked."
Further, rather than just banning new imports, Apple calls for a complete recall of all stocks of affected Samsung devices from European distributors and resellers, and an legal injunction against "manufacturing, stocking, importing, distributing, trading or selling" by Samsung Korea and its Dutch subsidiaries, which include Samsung Logistics BV and Samsung Overseas BV.
Apple also demands that Samsung be compelled to notify all of its channel clients of a recall of all infringing products, and that it offer compensation for retail stock value and the return transportation of the devices. Apple also wants Samsung to warn its resellers that "by storing, offering and/or selling of the above mentioned Galaxy smartphones [and tablets], you commit infringement of the intellectual property rights of Apple."
Canalys analyst Alastair Edwards stated that if the injunction is granted, it could have significant implications for the European market, noting that "this is a very big threat to Samsung, because basically their whole European supply chain will be broken."
While pointing out that Samsung is currently ahead of Apple in sales of smartphones in the the Europe, Middle East and African market, "this could mean it's almost game over for Samsung in Europe."
The Hague court will rule on the injunction September 15, but judge Edger Brinkman has stated that any injunction wouldn't be granted until at least October 13. However, the threat of an injunction and the disruption it might cause resellers as their inventories are returned to Samsung may prevent them from taking new inventory. "Distributors and resellers now have to think hard whether to keep Galaxy products in stock," Edwards stated.
Apple takes up patent protections for iPhone
Apple promised to enforce its patented innovations related to the iPhone when it first appeared, but did not take immediate action against every rival that appeared. Apple spent no efforts pursuing legal action against the Palm Pre for example, which barely made a dent in smartphone sales. However, Samsung is the largest Android licensee and has produced a new line of Galaxy branded mobile devices that are closely pattered after Apple's iPhone, iPod touch and iPad.
Apple's original complaint filed in Germany indicated that the company tried to negotiate with Samsung last fall, but was rebuffed by its component partner and rival. Samsung subsequently began bringing its Galaxy models to market around a number of jurisdictions, complicating Apple's efforts to stop it.
At the same time, Google's announced acquisition of Motorola Mobility has sent Samsung's executives into action to shore up support for Bada, the company's own hedge against Android. Apple's legal action against Samsung applies both to hardware designs (potentially affecting both Android and Bada-based phones) and software elements related to Android.