AT&T will only offer unlimited & pay-per-use texting after Aug 21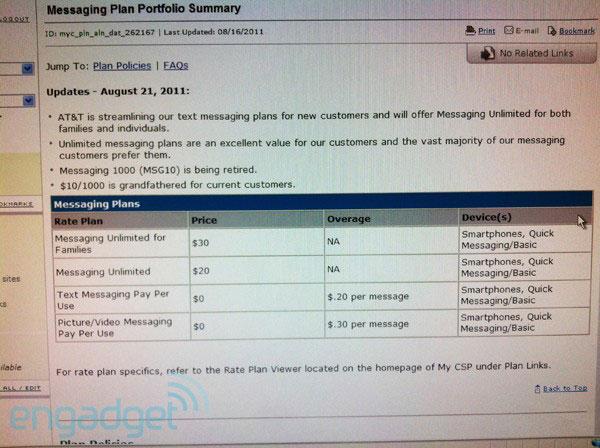 Beginning August 21, new AT&T customers will only be able to choose between unlimited text messaging plans starting at $20, or pay 20 cents for each text message and 30 cents for a picture or video message.
AT&T confirmed to AppleInsider on Thursday that existing customers with other text messaging plans, such as $10-per-month for 1,000 messages, will be grandfathered in. Customers who switch to a new phone will also be able to retain their old text messaging plan.
The carrier also confirmed that new AT&T customers who buy an unlimited plan starting at $20-per-month will still receive unlimited mobile-to-mobile minutes to any other U.S. cellphone customer. The "Mobile to Any Mobile" offer launched in February, coinciding with the launch of the Verizon iPhone.
"We regularly evaluate our offers and are making some adjustments to our data and messaging lineup," a company spokesperson said. "Starting August 21, we're streamlining our text messaging plans for new customers and will offer and unlimited plan for individuals for $20 per month and an unlimited plan for families of up to five lines for $30 per month.
"The vast majority of our messaging customers prefer unlimited plans and with text messaging growth stronger than ever, that number continues to climb among new customers. Existing customers don't have to change any messaging plan they have today, even when changing handsets."
AT&T text message plan changes originally leaked to Engadget, have since been confirmed.
For those who opt to not buy an unlimited messaging plan, AT&T charges 20 cents per text message sent, while picture and video messages run 30 cents on a pay-per-use pricing system.
The last major change to AT&T's plans came in 2010 just before the iPhone 4 launched. The carrier began capping new data plans at 2GB for $25 per month, though like with the upcoming text messaging change, legacy customers with unlimited plans have been grandfathered in.