Best Buy to give away Galaxy Tabs as Apple seeks ban across all of EU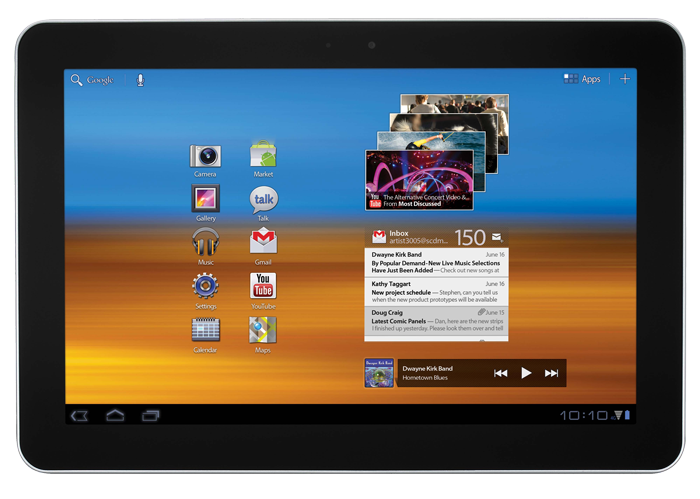 AppleInsider is supported by its audience and may earn commission as an Amazon Associate and affiliate partner on qualifying purchases. These affiliate partnerships do not influence our editorial content.
Best Buy this weekend will kick-off an aggressive promo that offers a free Galaxy Tab 10.1 to buyers of certain HDTVs, possibly hinting that yet another iPad rival is in need of a stimulus to combat poor sales, assuming Samsung can keep it on the market.
The offer, which starts August 21 and runs through August 27, promises a free, 16GB Wi-Fi version of the Android tablet to any customer who purchases a 46-inch or 55-inch, LED-lit 3D TV worth $1,500 or $2,000.
Electronista notes that the deal isn't as drastic as the $100 TouchPad price drop that lasted a week before HP on Thursday ultimately waved the white flag in defeat, but is nonetheless unusual for a $500 device that's been on the market for just a few weeks.
As the nation's largest specialty electronics retailer, Best Buy has been placing big bets on sales of tablet devices following the success of the iPad but hasn't seen the reception it was expecting for some of the non-Apple devices.
For instance, a report from earlier this week noted that big-box retailer took delivery of 270,000 HP TouchPads and but only managed to sell 25,000 units, or less than 10 percent of its inventory. A $100 price cut on the 9.7-inch devices did little to spur demand, with one analyst vouching his belief that the discount actually backfired by prompting customers to wait for further savings.
Disgruntled over the matter, Best Buy reportedly refused to pay for the remaining tablets and asked that HP take them back. But after pleading with the retailer to be patient, HP shocked the tech world on Thursday when it announced plans to scrap the TouchPad and all of its existing and future webOS devices entirely, essentially conceding the tablet market to Apple.
As part of the restructuring, HP said it would take a $.05 charge per share to account for the stockpile of unsold TouchPad, which, given the company's 2.07 billion outstanding shares, amounts to just over $100 million.
The discontinuation of its mobile device initiative is part of a broader move that may see HP exit the hardware business entirely, likely spinning off its low-margin PC business as part of a shift in strategy that will see it challenge IBM on the software and services front rather than battle Apple on its highly-profitable hardware sales.
For its part, Samsung is not only challenged with making its Galaxy Tabs appear as viable alternatives to the iPad, it's also fighting Apple to keep the devices on the market. Following a series of patent infringement lawsuits filed by Apple, a German court last week barred the sale of the Galaxy Tab across all of Europe, except for the Netherlands, where a separate complaint was pending.
Although the ban was partially suspended by a judge earlier this week, the separate suit filed in the Netherlands was revealed Friday to have Apple seeking an injunction banning Samsung's entire Galaxy series throughout the European Union. This reportedly includes both smartphones — the Galaxy Ace, Galaxy S and Galaxy SII — as well as tablets: the Galaxy Tab 7 and Galaxy Tab 10.1.
As part of the complaint, Apple is demanding that Samsung and its subsidiaries send a "letter of request" to all their European clients, ordering them to recall all of the infringing stock "within 14 days" and offer compensation of the purchase price as well as transportation costs.