Samsung stalls, accuses Apple of doctoring evidence in US iPhone, iPad copying case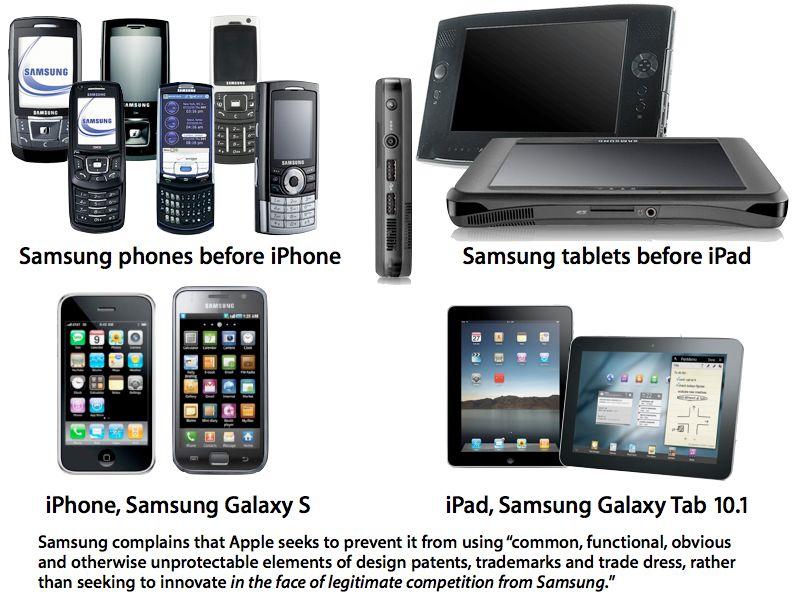 In addition to legal action occurring in Australia, Germany and the Netherlands, Apple also continues its case against Samsung in the US, where its partner and rival is working to delay the case until 2013 while fighting Apple's iPhone patents with F/RAND encumbered counterclaims.
Apple's US patent infringement claims against Samsung began in April, when the iPad maker asserted infringement of 8 patents related to the design and functionality of the iPhone and iPad, specifically targeting Samsung's Galaxy, Nexus and Epic 4G smartphones and its Galaxy Tab tablet.
Samsung quickly fired back with a suit of its own involving 12 patents that "relate to fundamental innovations that increase mobile device reliability, efficiency, and quality, and improve user interface in mobile handsets and other products."
When Apple filed for an expedited trial, Samsung dismissed its own case and added its patent claims to Apple's original action as counterclaims, something Apple now complains was simply an effort to bog down the legal proceedings, according to a report by Edible Apple.
"Seeking to obfuscate and delay Apple's claims," the company stated in an Initial Joint Case Management Conference Statement filed with week, "Samsung filed an Answer to the Complaint on June 30 and brought counterclaims based on twelve disparate patents that are unrelated to the subject matter of Apple's patents.
"These twelve patents, seven of which purportedly pertain to public wireless communications standards, raise numerous legal, factual, and technical issues that are completely unrelated to Apple's claims and should be severed and set for trial on a separate track. Samsung itself does not believe that its claims require quick resolution, because it — unlike Apple — has not moved for expedited relief."
Apple maintains the Samsung's standards-related patents, much like those held by Nokia and Motorola, are F/RAND encumbered patents that have already been committed to "fair, reasonable and non-discriminatory" licensing terms.
The report notes that Apple "accuses Samsung of wielding their patents unfairly and in ways that run afoul of contract and antitrust law," and therefore asks that the unrelated and thorny issues related to these F/RAND patents that Samsung wants to mix together with its own design patent issues instead be separated into a separate legal track.
Samsung calls iPhone, iPad design "common, functional and obvious"
In its defense, Samsung describes itself as having been in the mobile industry far longer than Apple, and the innovator of a variety of smartphone advances, including the introduction of the first phone slimmer than a centimeter back in 2001.
Samsung also complains that Apple seeks to prevent it from using "common, functional, obvious and otherwise unprotectable elements of design patents, trademarks and trade dress, rather than seeking to innovate in the face of legitimate competition from Samsung."
Samsung took particular issue with elements of the composite design Apple has used to describe its iPhone and iPad, including the use of rounded corners and rounded boxes for app icons, the use of a yellow legal pad to represent notes and the gears icon Apple uses for its Settings app.
Samsung further requests that the Court cancel Apple's "allegedly registered trademarks and trade dress, in addition to declarations of invalidity for all asserted IP, including the utility and design patents." The company also defends its counterclaim filing of F/RAND patents by saying it would "conserve resources of both parties and the Court."
Samsung claims Apple "doctors evidence"
In its US filings, Samsung also provided an overview of Apple's other legal actions against it worldwide, portraying Apple as filing nonsensical legal requests and presenting falsified evidence.
"In Australia," Samsung wrote, "Apple erroneously moved to enjoin the sale of a version of the Galaxy Tablet Samsung never planned to release in Australia. To avoid wasting the resources of the Court or the parties on a device that Samsung would not even be selling in Australia, Apple and Samsung entered into an agreement in which Samsung would not release the U.S. version of the tablet in that country—which it had never intended to do."
In reality, Samsung refused to present Apple or the court in Australia with details of the Galaxy Tab it did plan to sell in Australia, so Apple based its case on the currently selling models Samsung markets in the US and South Korea.
"In Germany," the company added, "Apple secretly filed for an injunction, without any notice to Samsung, and with reportedly doctored evidence. After initially entering the injunction, the German court reversed itself and has since allowed sales of the Galaxy Tab to resume throughout Europe, with the exception of Germany itself. Samsung is challenging the remaining limited portion of the injunction and expect it to likewise be overturned."
Here, Samsung takes a clearly false claim it issued as public relations damage control (a debunked insistence that it was blindsided by Apple's injunction request in Germany), adds in an equally phony claim about "reportedly" doctored evidence, and delivers both to the US court as facts in its legal filings.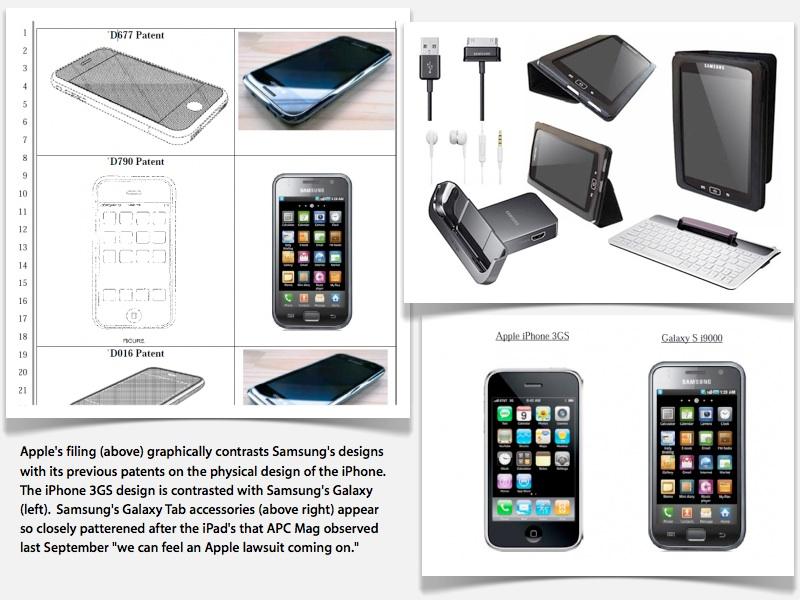 Apple asks for quick resolution to stop future Samsung clones in the US
Apple maintains that Samsung's F/RAND claims must be removed from its case because it has an urgent need for relief and that continued copying by Samsung will "erode the distinctiveness of core Apple products."
"New infringing Samsung products are rapidly entering the U.S. market," Apple stated. "Samsung has stated that it will make a 'major new product announcement' at the end of this month. All indications are that Samsung will announce the U.S. release of its next generation Galaxy S2 smartphone. Apple understands that a new infringing Samsung tablet, called the Tab 8.9, is also coming. Apple needs early adjudication of its claims so it can put a stop to Samsung's copying of Apple's designs and technology now."
Apple added, "By any measure, combining Apple's claims and Samsung's claims would make the case too large and too complex for any single jury. The technologies are varied. The legal issues, including Apple's antitrust counterclaims, are many […] Urgency and logic dictate that the cases be split as Apple has proposed."
Apple seeks to schedule an expedited trial for its claims affecting Samsung's alleged patent infringements by March 7, 2012, with Samsung's claims being heard June 21, 2013. Samsung wants a composite trial covering both disputes to be delayed until at least March 2013, which would provide the company with another full year and two complete holiday seasons to continue sales of its Galaxy products. A ruling on the dispute is scheduled for August 24.