New batch of Apple patents includes solar power, device orientation inventions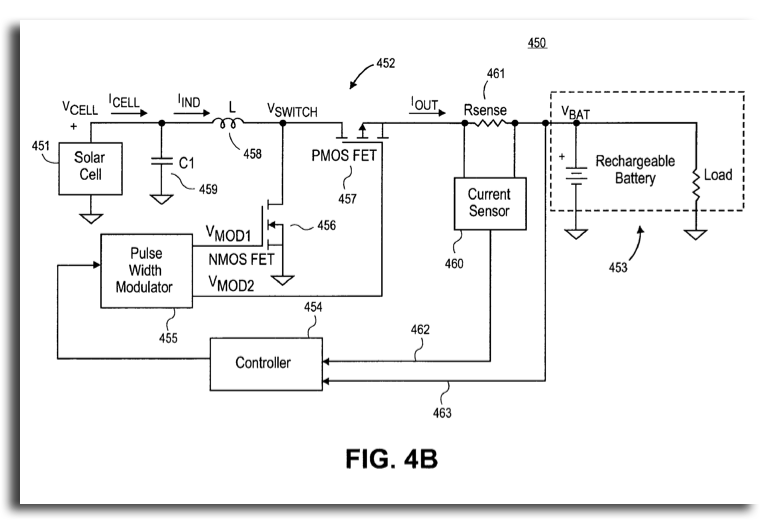 The U.S. Patent and Trademark Office granted Apple 16 patents on Tuesday, including filings related to solar power, methods for detecting and switching device orientation and a Cover Flow-like interface for editing video.
U.S. Patent No. 8,004,113, entitled "Methods and apparatuses for operating devices with solar power," reflects Apple's continued interest in the alternative power source.
The filing specifically address "solar power tracking techniques," detailing an apparatus including a voltage converter coupled with a controller. Apple describes a method whereby the voltage converter monitors input from a solar power source to maintain the output voltage within a predetermined range. The patent contains technical details, such as formulas, for calculating the amount of power drawn from solar cells.
Possible devices that Apple suggests could be connected to the apparatus include notebooks, media players, cell phones, personal digital assistants, cameras and handheld computing devices.
The application was filed on Oct. 6, 2006. Credit for the invention goes to Wendell Sander, Daniel Warren and Aaron Leiba.
Apple has been considering solar power for several years now. According to one report, both Apple and Samsung are "evaluating" the option for their consumer products, but high-efficiency solutions are not ready for mass production.
In January, the USPTO published an Apple patent application for an auxiliary solar cell that could be used as a backup power source for mobile devices. Apple has also looked into covering a device such as the iPod or iPhone with solar cells.
Apple on Tuesday was awarded one new patent, as well as a reissued patent, for methods for detecting the orientation of a device and changing the display accordingly. U.S. Patent No. 8,004,493 is entitled "Methods and systems for providing sensory information to devices and peripherals," while RE42639 is entitled "Apparatus and method for rotating the display orientation of a captured image."