Apple now earns $5,600 per sq ft, blows past other US retailers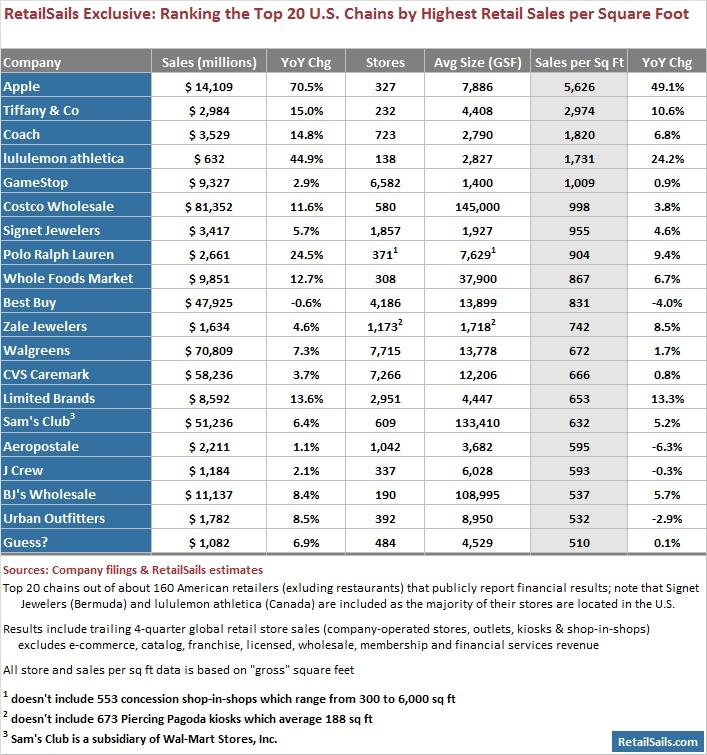 Apple's retail network has brought in $14 billion over the year ending in June, which allowed the company to top rankings of 20 US retail chains in terms of merchandise value sold per square foot of store.
A report by RetailSails states that in looking at more than 160 American retailers, Apple ranks first by a wide margin in the ability to generate revenues compared to the size of its stores.
Apple's global chain of 327 stores occupy, on average, 7,886 gross sq ft of retail property, making them about the same size as the average Polo or J Crew, roughly half as large as typical Best Buy, Walgreen, or CVS stores.
However, Apple's stores generate 5 to 10 times as much revenue as similarly scaled, upscale clothing stores, nearly 7 times as much as Best Buy, and about 6 to 9 times as much revenue per square foot as vastly larger, efficient warehouse stores like Costco and Sam's Club.
Apple even generates about twice as much revenue per square foot as high end, luxury boutique retailers such as Tiffany and Coach.
Further, the report notes that Apple has experienced a 49.1 percent jump year over year in its sales per square foot and a 70.5 percent growth in its retail revenues overall, making it the fastest grower in both metrics among the top 20 US chains.
Much of Apple's growth has occurred overseas, where the company has vast potential for growth; in contrast, many US retailers have been stuck in a slump due to a poor macroeconomic environment that has depressed retail revenues.
Apple is also working to expand not only its store count, but increase the size of many existing stores, remodeling existing stores, moving them to larger, new locations, and building nearby stores to help cope with demand for retail sales and support.
The report does not compare Apple's online sales, or include those of other online retailers, such as Amazon, nor does it include metrics for privately owned retail chains that do not report their financials.