Apple seeds developers new iTunes 6.1 beta with iCloud iTunes Match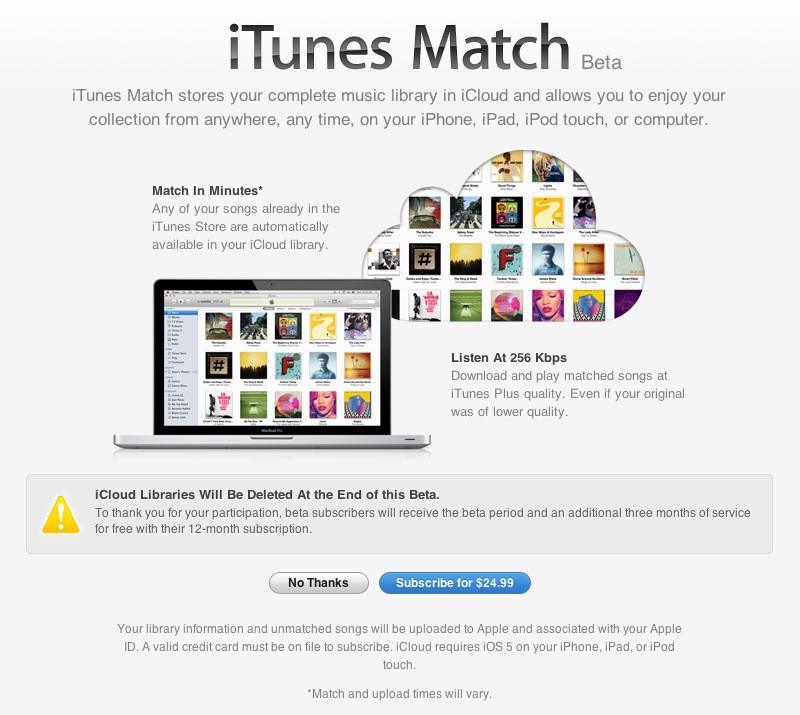 AppleInsider is supported by its audience and may earn commission as an Amazon Associate and affiliate partner on qualifying purchases. These affiliate partnerships do not influence our editorial content.
Apple has released a new version of iTunes for developer testing of the functionality of iCloud's new iTunes Match feature for storing songs "in the cloud" for flexible access from mobile devices.
Apple has already publicly introduced some new iCloud features in iTunes, including the ability to browse and download any previously purchased songs at no additional charge.
The new iTunes 6.1 beta release is the first to support the "scan and match" cloud access feature that Apple first announced at this summer's Worldwide Developer Conference.
This new feature allows users to pay for an annual iTunes Match subscription that will make their entire existing music collection (including songs not purchased through iTunes) available from Apple's cloud servers as well.
The service will support music collections up to 25,000 songs and costs $24.99 per year. That library limit does not count any songs purchased from iTunes, which are already cloud accessible. The service is also limited to music, and does not support the uploading of apps, audiobooks, books, movies, TV shows, ringtones or interactive content such as iTunes LP liner notes or iTunes Extras for movies.
Users can upload any music they want (up to the 25,000 title limit) onto Apple's cloud servers, but the biggest feature of iTunes Match is its upload-free, automated file matching service.
Rather than forcing users to upload the many gigabytes of data that thousands of songs would involve, Apple's iTunes Match will simply scan the user's library and then make those same songs available from iTunes' vast catalog of songs, effectively allowing users to upgrade their CD collections into cloud-accessible, high quality iTunes downloads without having to repurchase their music as digital downloads.
The beta program is for developer testing only, and Apple warns that any content copied up to its cloud servers during the test period may be erased. For this reason, developer notes tell users testing the service to back up their original songs, and not to delete any music they've uploaded into the service.
Developers participating in the program pay the standard subscription fee, but are given three free months for participating. The iTunes Match feature is currently limited to the Mac version of iTunes only, but once songs are added to the iCloud library, they can be accessed from any computer running the iTunes 10.5 beta as well as any iPhone, iPod touch or iPad running the latest iOS 5 beta.
The iTunes Match service works with up to 10 iTunes PCs and iOS devices connected to the same Apple ID, although only five of those devices can be computers. Apple also notes that a computer or iOS device can only be associated with a new Apple ID once every 90 days.
Apple notes that iTunes Match is currently limited to certain supported song formats "at this time," and that some songs may be matched incorrectly. Matched songs may also be a different version of the same song.
Apple also tells developers to watch out for performance issues on iOS devices, and notes that under the existing iOS 5 beta, music will continue to download from the cloud over cellular connections even if that option has been restricted to WiFi only in the Settings app.