Consumer perception of Apple improves after Steve Jobs resignation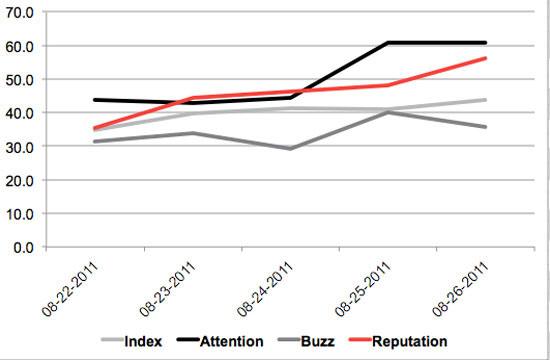 AppleInsider is supported by its audience and may earn commission as an Amazon Associate and affiliate partner on qualifying purchases. These affiliate partnerships do not influence our editorial content.
Suggesting the Apple brand is bigger than the company's iconic founder, a daily tracking survey has found that consumer perception of Apple actually improved following the resignation of Steve Jobs.
The latest poll from YouGov BrandIndex shows how consumers' opinion of the Apple brand fluctuated following the announcement last week that Jobs would resign as chief executive of Apple. While attention surrounding Apple unsurprisingly increased, so too did the company's reputation.
Sitting around 35 points on the poll's scale just days before the announcement on Aug. 22, the number shot to near 60 points by Aug. 26, two days after Jobs stepped down and Tim Cook took over as CEO.
The survey asks adults if they had heard something about a company — in this case, Apple — in the last two weeks. That number grew 17 percent over the past two weeks, propelled by Jobs' announcement that he would step down as CEO, but remain chairman of the board at Apple.
The study's scale ranges from -100 to 100, and points are compiled by subtracting negative feedback from positive.
Each weekday, 5,000 people ages 18 and up from a representative U.S. population sample are interviewed for the YouGov BrandIndex, which carries a margin of error of plus or minus 2 percent. Respondents are drawn from an online panel of more than 1.5 million individuals, and more than 1.2 million interviews are conducted per year.
As one of the most recognizable CEOs in the world, Jobs gained considerable mainstream attention last week when his resignation was announced. Though he was actually on medical leave since January, Jobs had retained his title as CEO and remained a major force throughout 2011, introducing key products like the iPad 2 and iCloud at widely publicized media events.