Facebook, Twitter integration spreads to all of Apple's online store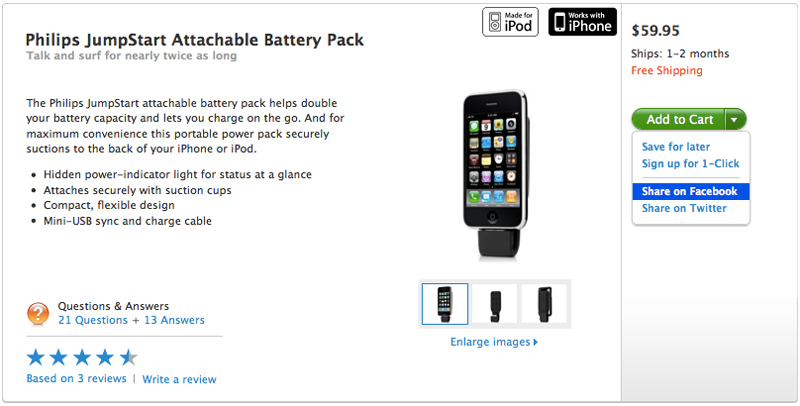 Links to share products on social networking sites Facebook and Twitter are now available for all items sold in Apple's online store, including third-party products.
The gradual roll-out of the social networking features began last month, but was initially limited to only a handful of Apple-specific products, namely the iPod classic and Mac Pro. But as of Monday, all products in Apple's online store now sport links to Facebook and Twitter.
Using the links, users can share products with their friends on the popular social networking sites. The links can be found by clicking a drop-down arrow located to the right of "Add to Cart" links on the store.
Choosing to share a link on Twitter opens a window pre-populated with the name of the product and a link to the Apple online store. For Facebook, a window opens and users can post a thumbnail and a link to the product via their account.
The enhancements to Apple's online store are another way that the company has chosen to embrace social networking. The iPhone maker will also add system-wide Twitter integration to iOS 5 this fall, while videos of an alleged iPhone prototype suggest the company also looked into Facebook integration at the system level.
Apple has its own social networking tool designed to share iTunes Music content, called Ping. It debuted last year with the release of iTunes 10, and features integration with Twitter to make it easier for people to share music discoveries with their friends.
AppleInsider was first to report on Saturday new evidence that Apple plans to add a new social networking element to its forthcoming iCloud service. Dubbed "Find My Friends," the feature is expected to allow users of iOS devices to discover their friends' locations via GPS.