iPhone 4 remains top-selling US smartphone despite growing iPhone 5 hype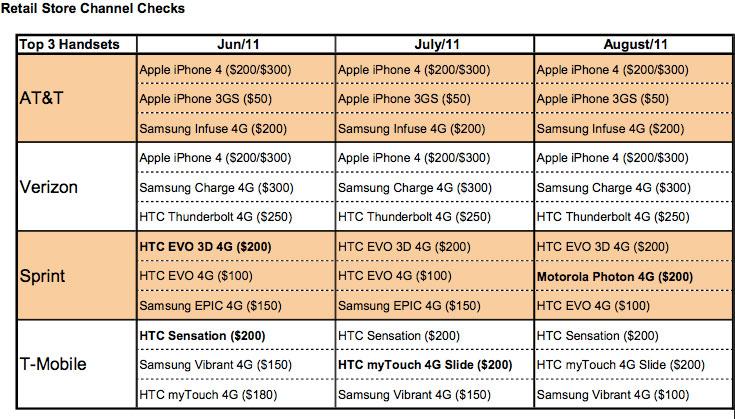 Even as rumors of Apple's fifth-generation iPhone persist ahead of an anticipated launch, sales of the iPhone 4, first released in 2010, reportedly continue to top the competition at both AT&T and Verizon.
Analyst T. Michael Walkley with Canaccord Genuity revealed in a note to investors on Tuesday that checks with U.S. carriers indicate that sales of the iPhone 4 remain on top ahead of the iPhone 5 debut, despite the fact that the iPhone 4 is more than a year old.
"Our checks indicated strong sales of the iPhone 4, as it remained the top selling smartphone at AT&T and Verizon despite increasing consumer expectations for the iPhone 5 launch," he wrote.
"During the holiday season, we anticipate strong sales of the iPhone 5, as we anticipate a strong global launch with increased distribution to new carriers including Sprint in the U.S. market."
Walkley's research found that the iPhone 4 remained the top-selling handset at both AT&T and Verizon in August. In addition, the $50 entry-level $50 iPhone 3GS was the second strongest selling handset at AT&T. Verizon does not offer the iPhone 3GS.
The iPhone 4 and iPhone 3GS beat out the $200 Samsung Infuse 4G, which was the third-best selling handset at AT&T. And at Verizon, the Samsung Charge 4G came in second, while the HTC Thunderbolt 4G was third.
"While Motorola Mobility and RIM enjoyed stronger sell-through trends in 2010, our (first half of calendar 2011) checks indicate a clear trend toward increasing share for Apple, HTC and Samsung," Walkley wrote.
In addition to strong sales of the iPhone 4, he also found that the 3G-capable iPad 2 is the top-selling tablet at both AT&T and Verizon, which are the only two carriers that offer the iPad in the U.S.
Walkley's expectation that the so-called "iPhone 5" will be available on Sprint in addition to AT&T and Verizon stems from a rumor that surfaced last month. The Wall Street Journal cited anonymous sources who revealed America's third-largest carrier would gain access to the nation's best-selling smartphone.
His findings reaffirm what Walkley found earlier this year, in May, when checks with carriers found that the iPhone 3GS, despite first being released in 2009, continues to outsell newer Android devices. In addition, he found at the time that the first-generation iPad at Verizon was outselling many Android-powered tablets.
Based on strong sales of the iPhone 4 and continued momentum expected with the launch of Apple's next-generation handset, Canaccord Genuity has raised its price target for AAPL stock to $545, from $515.
"Based on solid demand trends for iPhone/iPad, poor sell-through trends for competing tablet offerings, and the ramping iOS ecosystem driving longer-term replacement sales, we believe Apple will maintain dominant value share of both the tablet and smartphone markets to drive healthy long-term earnings growth," Walkley said.