Apple investigating crowd-sourced rankings for local search results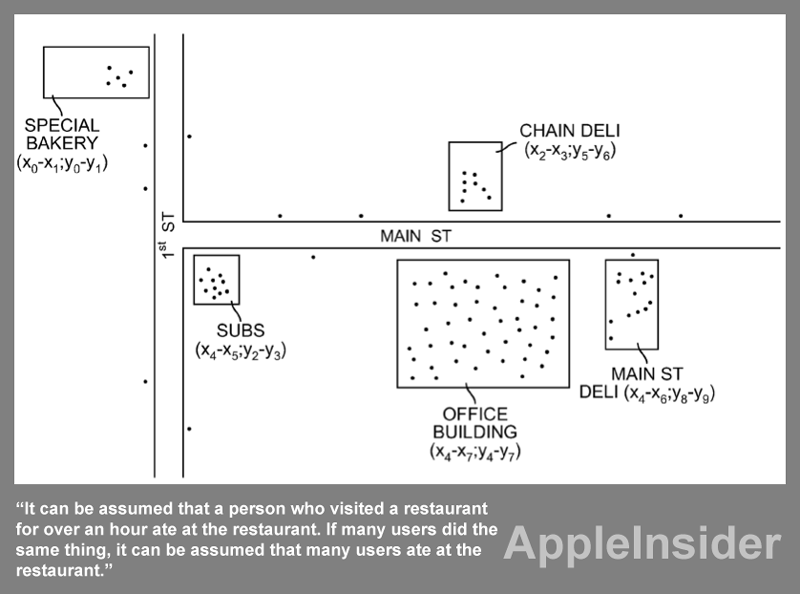 AppleInsider is supported by its audience and may earn commission as an Amazon Associate and affiliate partner on qualifying purchases. These affiliate partnerships do not influence our editorial content.
The search technology in Apple's iOS Maps software could implement data from anonymously recorded user visits to locations, like restaurants or stores, to improve map-related search results.
Apple's concept for ranking local search results based on user-provided data was revealed this week in a new patent application published by the U.S. Patent and Trademark Office, and discovered on Thursday by AppleInsider. Entitled "Relevancy Ranking for Map-Related Search," it describes how an iPhone would optionally report a user's present location, via GPS, to help Apple improve its search results.
By collecting this data, Apple could find hotspots and popular destinations for iPhone users, allowing it to improve search results when users are looking for a specific location in the iOS Maps application.
The filing notes that many current map-based searches that are ordered by proximity offer poor results. In addition, online user rankings are usually based on the opinions of relatively few people who take the time to review a location, through a service like Yelp.
In addition, search results that are ordered based on advertising dollars are not representative of quality or how popular a destination may be. Apple's solution is to find popular destination by allowing users to opt in to a service that would periodically share their location data, anonymously, with a time stamp to improve search results in Maps.
Though the application was first filed before this year's iPhone location database controversy, in which it was discovered location data was stored in a database file on users' iPhones, user security and anonymity are a significant component of Apple's proposed invention.
"Data can be anonymously recorded and tracked for individual devices by assigning the device a unique identifier that is separate from any user information," the filing reads. "One way to do this is to alert the handheld communication device of its unique ID, and the handheld communication device can report data long with its unique ID. In this way, the server will only be tracking the movements of an anonymous user based on an ID."
Based on the location data received from an iPhone, Apple could collect and compile information from millions of users into a "location-popularity index." This index would be used to rank search results by making various assumptions based on the data.
"For example, it can be assumed that a person who visited a restaurant for over an hour ate at the restaurant," the filing reads. "If many users did the same thing, it can be assumed that many users ate at the restaurant.
"Based on these and other assumptions, search results can be ranked according to the locations having the most visitors. Accordingly, in a search for restaurants, the location that had the most number of visitors can be ranked the highest."
This data could also be used to recommend new locations to an individual user based on the crowd-sourced data, tracking people who have shown interest in similar restaurants or stores.
The application made public this week was first filed in March of 2010. The proposed invention is credited to Chad Richard and Jaron Waldman.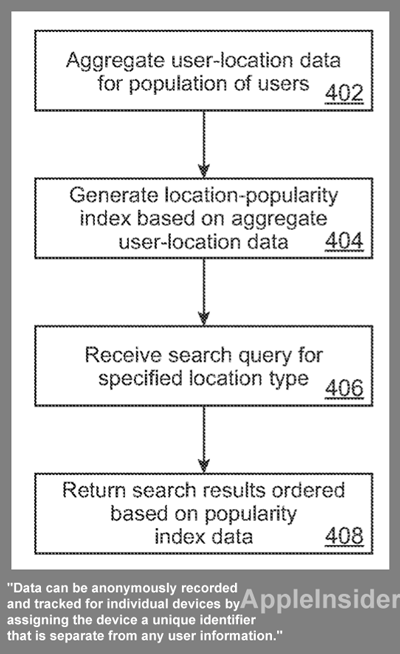 Recent patent filings and job listings from Apple have shown that the company has considerable interest in improving its Map software for iOS. The company even admitted earlier this year that it is building a "crowd-sourced traffic" service for iPhone users that will arrive in "the next couple of years."
Apple has also bought its own mapping companies, Placebase and Poly9, to potentially boost its Maps application. And just last week, a job application discovered by AppleInsider revealed the company is looking to build "exciting new features" for iOS location services, and seeks an expert in "navigation algorithms" to help reach that goal.