Trio of patent suits target Apple over caller ID, Web apps, USB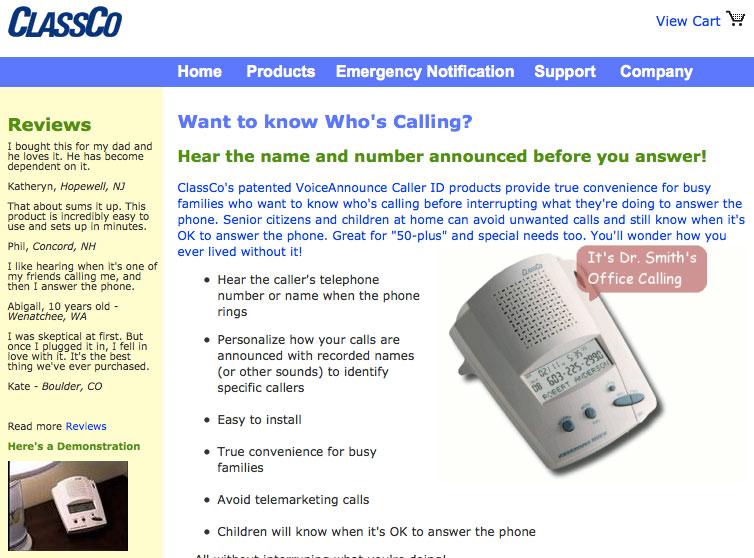 AppleInsider is supported by its audience and may earn commission as an Amazon Associate and affiliate partner on qualifying purchases. These affiliate partnerships do not influence our editorial content.
Apple was hit with three different patent infringement lawsuits in the U.S. this week, accusing the company of violating inventions related to caller ID, browser-based Web applications, and for building "USB products."
New Hampshire-based ClassCo, makers of the "VoiceAnnounce Caller ID" products, filed suit this week against Apple, alleging patent infringement over caller identification patents owned by the company. Also named as defendants are HTC, Samsung, Hewlett-Packard, LG, Research in Motion, Huawei, and ZTE.
Filed in U.S. District Court for the Norther District of Illinois, the complaint accuses Apple and the others of violating two patents related to "announcement" of a calling party. The company has previously sued Motorola and Kyocera International.
The two patents owned by ClassCo and included in the suit are both titled "Calling Party Announcement Apparatus." Both were granted to inventor David J. Luneau. They are:
ClassCo seeks compensatory damages for what it believes are past infringements by the defendants. It has also asked the court to file an injunction preventing products like the iPhone from continuing their alleged infringement.
Apple again finds itself among a long list of defendants in a complaint from Negotiated Data Solutions Inc., filed this week in the U.S. District Court for the Eastern District of Texas, where lawsuits are frequently filed in hopes of a favorable outcome. Other defendants in the case include Samsung, HTC, Motorola, Nokia and RIM.
The suit cites "cellular telephones, tablet computers and other electronic devices with USB functionality" being sold by Apple as being in violation of a handful of patents owned by Negotiated Data. Specifically named are the iPhone 4 and iPad.
The full list of patents named in the complaint, all of which were granted by the U.S. Patent and Trademark Office in the 1990s, are:
The official website for Negotiated Data, or "N-Data," states that the company was set up in 2003 to recoup value for shareholders of Vertical Networks, which sold a line of telephony systems known as the "Instant Office" in the mid-1990s.
"N-Data is not a typical patent licensing company in several important respects," the site reads. "In addition to offering reasonable licenses to recoup investment, a large part of N-Data's mission is to further socially and environmentally responsible practices in both the developed and developing worlds. This is why N-Data is a member of the RIPL Group."
The company claims it puts a "substantial portion of its revenue" into nonprofit organizations that have "goals in common" with the company.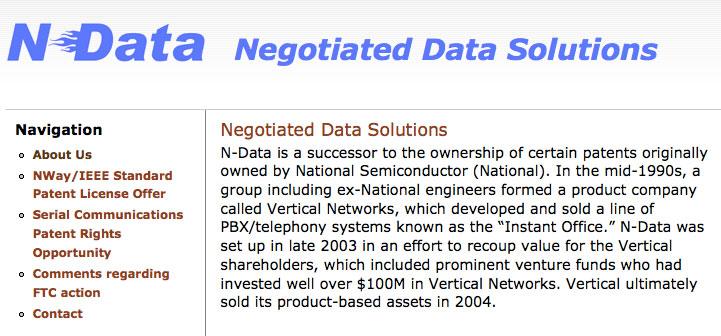 The lawsuit filed this week by Droplets Inc. against Apple also includes Amazon, Google, Facebook, Yahoo and YouTube as defendants. Like the Negotiated Data suit, it was filed in U.S. District Court for the Eastern District of Texas.
Apple and the others are accused of violating two patents related to Web applications hosted on servers and accessed through a Web browser. Cited in the complaint are the websites apple.com, trailers.apple.com, as well as iTunes and "other web applications and software."
The suit describes Droplets as "an innovative software development corporation focused on technology for developing and delivering highly functional and scalable applications over the Internet. As a result of this leading-edge development, Droplets has received patents on its platform, which includes deployment of rich internet applications and related technology."
Droplets claims that it has sold products based on its technology to "Global 1000 enterprises, U.S. armed services, independent software vendors, and application service providers." The two complaints named in the suit are:
U.S. Patent No. 6,687,745: "System and Method for Delivering a Graphical User Interface of Remote Applications Over a Thin Bandwidth Connection," awarded in 2004
U.S. Patent No. 7,502,838: "System and Method for Delivering Remotely Stored Applications and Information," granted in 2009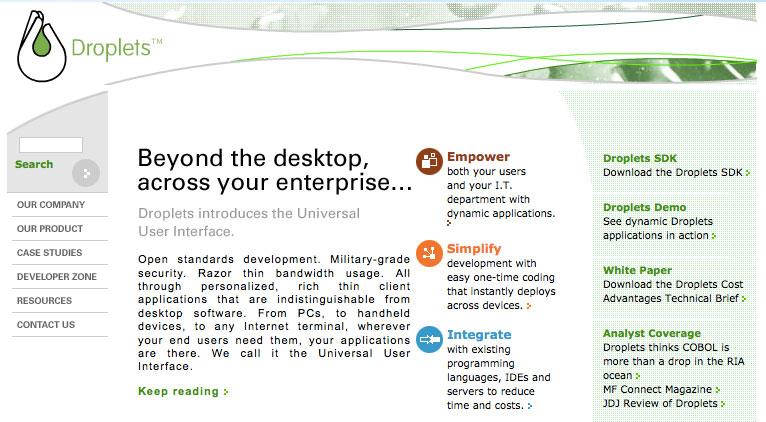 As with the other aforementioned lawsuits, Droplets has asked the court to find the defendants infringed on its patents, and seeks damages for those alleged violations. The firm McKool Smith is representing both Droplets and Negotiated Data in their complaints, while ClassCo has hired Dykema Gossett.