Steve Jobs resignation has little effect on Apple product demand - report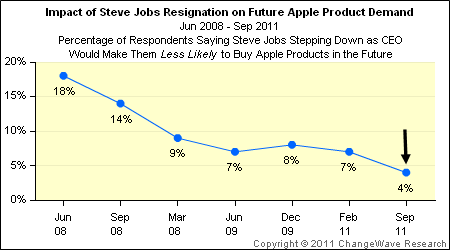 Consumer demand for Apple products is unlikely to be impacted by the resignation of Apple co-founder Steve Jobs, says one of two new studies, while the other reaffirms that the iPad will continue "dominating" the enterprise tablet market for the foreseeable future.
A survey conducted by ChangeWave during the week of Sept. 6-12 showed that only 4 percent of 2,297 consumers are "Less Likely" to buy Apple products following Jobs' resignation, while 89 percent of respondents indicated that the change in leadership will have "No Effect" on whether they purchase products from the company.
The research firm has conducted similar surveys since Steve Jobs' first leave of absence. In June 2008, 18 percent of respondents said they would be "Less Likely" to buy Apple products if Jobs stepped down. That figure has dropped steadily since then, with the current response rate of 4 percent reaching an all-time low since the survey started three years ago.
Before tendering his resignation in August, Jobs took three leaves of absence on medical grounds. Each time Tim Cook, then COO of the company, assumed day-to-day operations.
The firm went on to suggest that Jobs' previous absences have had "an 'inoculating' effect that over time has allayed consumer concerns on whether the company could operate at the same level without Steve Jobs at the helm."
A second ChangeWave survey focusing on tablet demand in the business market surveyed 1,618 corporate IT buyers from Aug. 10 to 29. The study showed that the iPad "remains the overwhelming choice for planned tablet purchasers."
80 percent of companies that plan on buying a tablet next quarter said they will go with the iPad. Apple's share remained unchanged since the previous survey conducted in May. Other tablet makers that companies shower interest in were Samsung, Dell, Motorola and RIM. Interestingly enough, 10 percent of respondents had selected Hewlett-Packard as their companies' next tablet purchase, but the device has since been discontinued.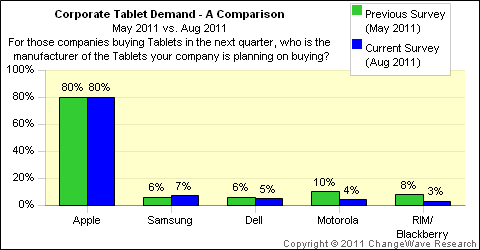 Last October, Jobs compared business demand for the iPad to holding a tiger by the tail. "We haven't pushed it (the iPad) real hard in business, and it's being grabbed out of our hands," he said.
For the most recent quarter, which ended in June, Apple reported 9.25 million iPad sales, posting 183 percent growth as compared to the same period in the previous year. The company also noted that 47 percent of Global 500 companies and 86 percent of Fortune 500 companies are testing or deploying the touchscreen tablet.
According to one recent report, Apple manufacturing partner Hon Hai increased iPad 2 shipment forecasts for the third quarter from 14 million to 20 million. Late last week, investment bank J.P. Morgan raised its estimates for total tablet shipments in 2011 to 51.9 million units, with 70.9 percent of the devices expected to be iPads.