TV studios quietly adding closed-captioned episodes to iTunes Store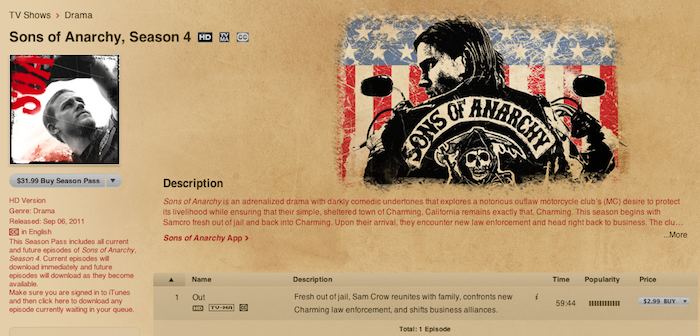 AppleInsider is supported by its audience and may earn commission as an Amazon Associate and affiliate partner on qualifying purchases. These affiliate partnerships do not influence our editorial content.
Television studios have quietly begun adding closed captioning to a small selection of the TV shows on offer in Apple's iTunes Store.
Fox, FX, CW and ABC are among the studios that have added closed captions to TV shows on iTunes. Specific shows include "Sons of Anarchy," "New Girl," "Switched at Birth" and "The Secret Circle," though, in general, only the current season of these shows carries support for captions.
It's not exactly clear when the first captioned TV shows arrived on the iTunes Store, but as late as last month, reports claimed that no TV shows on Apple's digital storefront offered the feature. Most of the shows providing the closed-captioning are from the fall 2011 TV lineup and have only been added recently.
Apple has for several years now offered closed captioning for movies, even providing a way to search exclusively for movies that support the feature. The company has yet to add the search criteria to the corresponding Power Search for TV shows in iTunes.
Last month, Apple removed the option of renting TV shows for 99-cents from iTunes and the Apple TV, after iTunes customers showed they "overwhelmingly preferred buying TV shows."
The company does, however, appear poised to make further inroads into the living room. According to a recent report from The Wall Street Journal, Apple is developing a "new technology" to deliver video to televisions. Also, rumors of an Apple-branded smart television have picked up steam in recent months, with a few reports speculating that an Apple TV set could arrive as early as next year.