Back-to-school Mac sales outpace PCs even without white MacBook, free iPod touch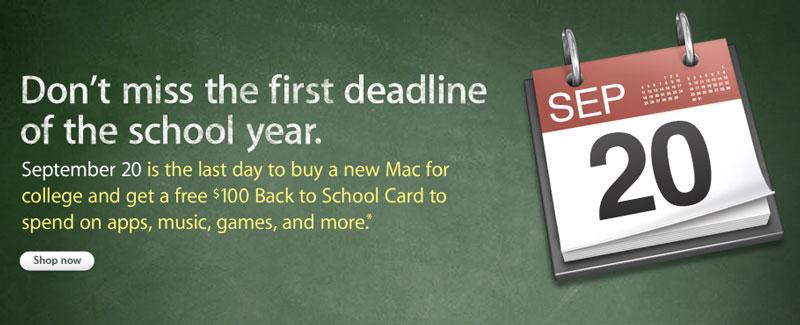 AppleInsider is supported by its audience and may earn commission as an Amazon Associate and affiliate partner on qualifying purchases. These affiliate partnerships do not influence our editorial content.
Back-to-school Mac sales once again easily outgrew Windows PCs this year, even though Apple did not offer a free iPod touch and discontinued its education-focused white MacBook this summer.
Stephen Baker, vice president of industry analysis with NPD Group, spoke with AppleInsider this week about the back-to-school PC buying season. He said Apple's year-over-year growth seen this summer was aided by weak comparisons from sales in 2010.
"Apple grew much faster than the Windows notebook market did," he said.
Baker noted there's no evidence that this year's lesser back-to-school promotion, in which students and faculty receive a $100 App Store gift card with the purchase of a new Mac, hampered sales. In years past, education buyers were given a free 8GB iPod touch, which carried a $199 value in 2010.
"I think (this year's sale) was also kind of masked in the middle of the Lion release, and all of the upgrades they did over the summer," Baker said, referring to Apple's refreshed MacBook Air and Mac mini lineups released alongside Mac OS X 10.7 Lion in July.
Baker downplayed the loss of the white MacBook, which was discontinued in July, though it can still be purchased only by education institutions. He said the $999 entry-level pricing of the white MacBook as well as its replacement, the 11.6-inch MacBook Air, make for an attractive price point, but they just aren't big sellers.
"I think the $999 price point for Apple is just kind of a teaser," he said. "The sales of those kind of products aren't always as big as the hype might be."
Baker revealed that consumers tend to gravitate toward the $1,199 MacBook Pro, a model that he said is the best value in Apple's notebook lineup. The entry-level MacBook Pro sports a 13-inch screen and a 2.3GHz dual-core Intel Sandy Bridge processor.
"Consumers are very smart," Baker said, "and they gravitate toward the things that are the best value."
As for the rest of the PC market, Baker said Windows machines got off to a slow start in the back-to-school buying season in July. However, sales picked up by the end of the season, resulting in a better year than most industry-watchers expected.
NPD found that back-to-school sales were much better than the first half of 2011, when retail notebook sales in the U.S. declined more than 12 percent from 2010. Back-to-school sales were propelled by a late surge in sales in the last two weeks of August, when sales increased more than 8 percent from 2010.
NPD's domestic sales data directly contradicts claims made in August by analyst Trip Chowdhry of Global Equities Research, who said that Apple had seen a "significant" slowdown in Mac sales since the end of July. The analyst cited "various tracking data" in reporting that Apple's back-to-school promotion did not boost sales as much as expected.
Instead, NPD's data suggests Apple is on pace to sell a record 4.5 million Macs this quarter, which concludes later this month. The firm's tracking found that Mac sales were up 22 percent in the U.S. in July and August.
If Apple does achieve sales of 4.5 million Macs this quarter, it would easily top the company's previous best of 4.1 million Macs. That sum was achieved less than a year ago, in the holiday quarter of 2010.