Intel details Thunderbolt technology spec, evolution plans for next year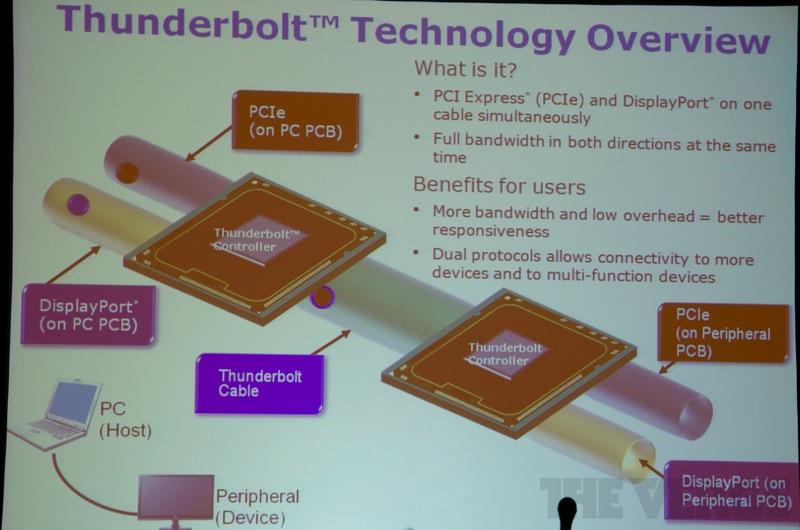 AppleInsider is supported by its audience and may earn commission as an Amazon Associate and affiliate partner on qualifying purchases. These affiliate partnerships do not influence our editorial content.
Intel on Thursday offered more details on its Thunderbolt specifications, detailing features for consumers as well as requirements for PC and peripheral manufacturers in view of expanding adoption of the new technology throughout the electronics industry.
Originally dubbed Light Peak, Thunderbolt is a new interface for connecting computers to peripheral devices developed by Intel at Apple's request. While Apple has filed for the Thunderbolt trademark, the rights will reportedly be transferred to Intel, which will continue to develop the new high-speed data transfer standard.
The Cupertino, California-based company is the only PC maker currently using Thunderbolt in its OS X desktop and notebook lines. Apple first introduced the new standard in its MacBook Pro lineup in February and then fitted Thunderbolt ports into other models launched thereafter, including the iMac, MacBook Air and Mac Mini, as well as its 2011 Thunderbolt Display.
Thunderbolt technology combines PCI Express and DisplayPort into a single serial data interface and offers significantly increased data transfer speeds between computers and peripherals compared to other I/O standards used by current PC models.
Thunderbolt cables contain two bidirectional channels, each supporting transfer speeds of up to 10Gbps. Current cables are electrical and therefore will be available in lengths of up to only 3m while future optical cables, coming "sometime next year," will support "tens of meters."
In time, the use of optical cables would let Intel increase data transfer speeds beyond the current 10Gbps threshold. Meanwhile, existing Thunderbolt cables contain an integrated controller at each end, "a feature that drives up the cost of the cable," This is My Next explains.
The Thunderbolt plug is compatible with the Mini-DisplayPort standard and comes with native simultaneous support for the PCIe and DisplayPort protocols. A single Thunderbolt port offers daisy chain support of up to 7 compatible devices, including 1 native DisplayPort display.
All Thunderbolt-branded products will use a single Thunderbolt connector and all Thunderbolt products will interoperate across all vendors.
More PC makers could adopt the new interface in the near future although at this point only Acer and Asus confirmed the inclusion of Thunderbolt ports in 2012 Windows-based computers, with other established PC makers like HP, Lenovo, Dell and Samsung having announced no plans to follow suit.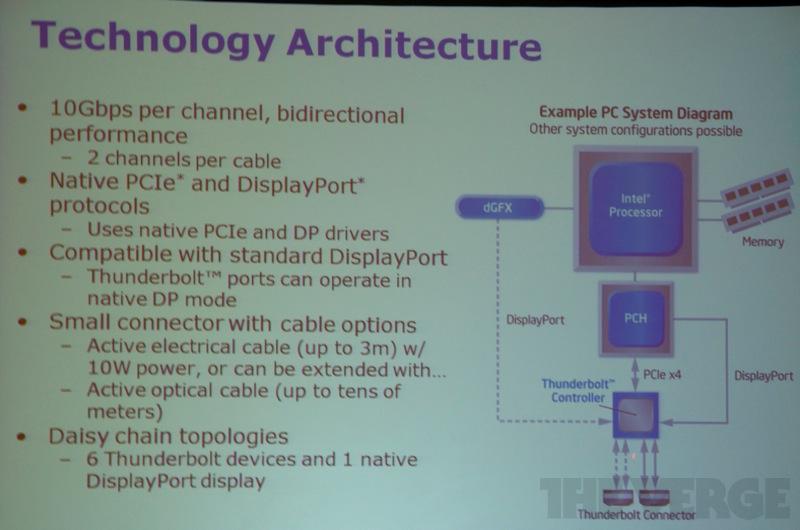 Nevertheless, Intel has noted a "tremendous response from the industry," and intends to further improve the spec. Response from PC peripheral makers has been more conclusive, with over twenty companies interested in adding Thunderbolt support to their upcoming products, including Belkin, Canon, Seagate, LaCie, Iomega, Western Digital, Adobe, and others.
The Thunderbolt spec, thoroughly described by Intel at IDF 2011, also makes reference to marketing elements for future products that will carry the Thunderbolt brand and mentions the Thunderbolt Technology Community, a project started by the company to further develop the new PC interface, available at www.thunderbolttechnology.net.