Mac App Store updated to warn users before re-buying software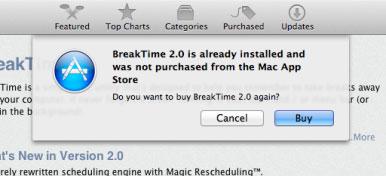 AppleInsider may earn an affiliate commission on purchases made through links on our site.
Apple has updated its Mac App Store to warn users who already bought and installed an application outside of the App Store if they attempt to buy it again through the digital download service.
Apple's Mac App Store does not feature support for applications that were purchased outside of the App Store, even if the software is available for purchase in multiple places. But the Mac App Store can detect whether an application has already been installed on a system before it is purchased through the Mac App Store.
As noted by Macworld, the Mac App Store now prompts those users with a warning to help prevent users from inadvertently buying software twice. It lets them know that the application "is already installed and was not purchased from the Mac App Store."
Though users are prevented from buying the software and presented with the warning, Apple still gives the option to buy the application again if the user chooses to do so.
While the update might help out a user who doesn't understand the difference between software bought on the Mac App Store and elsewhere, it does not address the fact that software bought outside the Mac App Store cannot be re-downloaded or updated through Apple's service.
The Mac App Store launched in Mac OS X 10.6 Snow Leopard earlier this year, and is a major selling point of the newly released Mac OS X 10.7 Lion. It brings an iOS-style experience to the Mac with buying and installing applications, and the digital storefront even manages software updates much like the iPhone App Store.