Apple exploring universal power adapter, data/charge cable for iPhone & Mac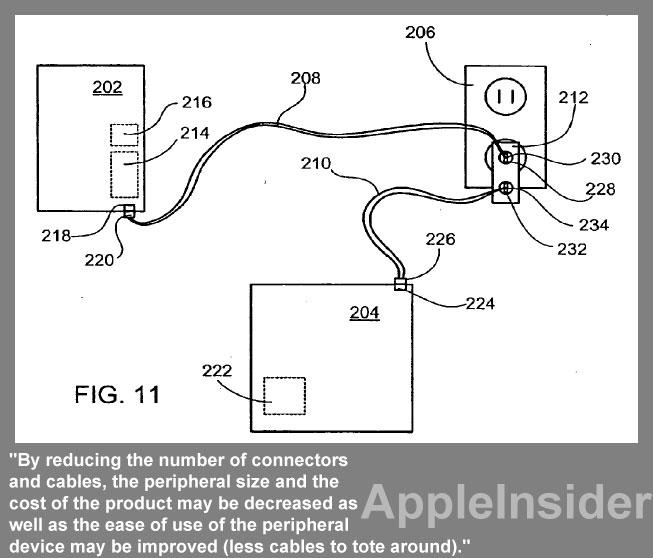 Apple has shown interest in creating an all-in-one data and power cable that could be used to charge and transfer files between unique devices like iPhones and Macs.
The concept was highlighted in an Apple patent application published by the U.S. Patent and Trademark Office and discovered by AppleInsider. The proposed invention, entitled "Power Adapters for Powering and/or Charging Peripheral Devices," is a continuation of a concept that dates all the way back to filings from 2001, and among its inventors is former iPod chief Tony Fadell.
The filing describes "improved techniques for powering and/or charging peripheral devices through a data transmission lines." The accompanying illustrations show a number of possible configurations for charging a device like an iPhone or iPod from the same wall plug that powers a portable Mac.
"It would be desirable to remove the total number of connections made to a peripheral device so as to reduce the number of connectors and cables needed to operate the peripheral device," the filing reads. "By reducing the number of connectors and cables, the peripheral size and the cost of the product may be decreased as well as the ease of use of the peripheral device may be improved (less cables to tote around)."
Apple's solution is a new power adapter that also includes a data port. By transmitting both power and data over the same cable, both an iPhone and a Mac could transfer data between each other while both being charged.
Currently, users can sync data and charge their iPhone to a Mac or PC with an appropriate USB cable. But that cable is different from the unique power adapter needed for a Mac, and the Mac's power adapter does not transmit data.
In Apple's proposed invention, a power port on a device like a MacBook Pro could also double as a high-speed data port. With one universal cable type capable of handling charging and syncing both an iPhone and a Mac, this would achieve Apple's goal of reducing the number of cables to "tote around."
In addition to Fadell, those credited with the invention of the concept are Daniele Deiuliis, Andrew Bert Hodge, Jeffrey L. Robbin, Stanley Carl Ng, and Eric W. Anderson. The continuation was filed with the USPTO by Apple this June.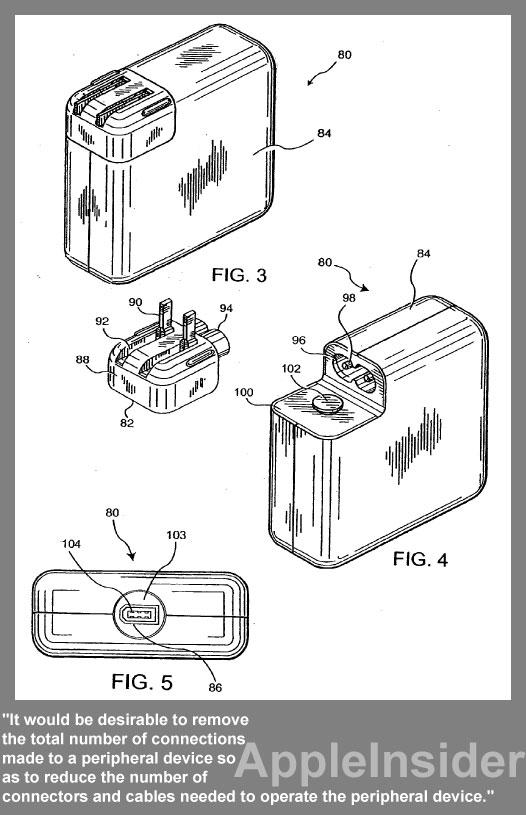 Apple has explored a similar concept for an all-in-one MagSafe power and data connector in a patent application discovered by AppleInsider earlier this year. In that filing, Apple also described a single cable that would provide both power and data to a mobile device, like a MacBook Pro.