Samsung shop features Apple's App Store, Safari icons on decorative app wall [u]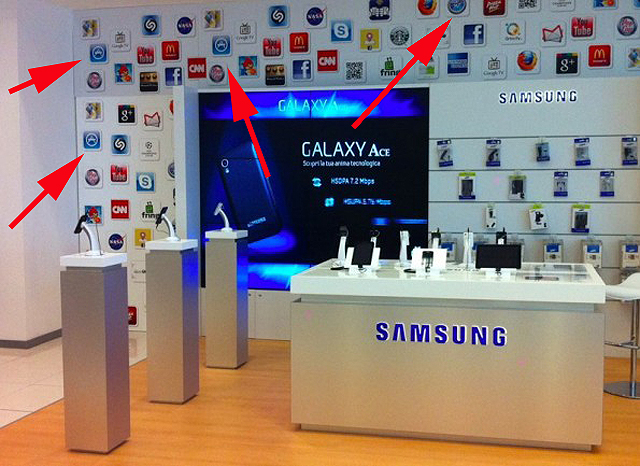 In the midst of a tense legal dispute with Apple, Samsung strangely appears to have borrowed the iPhone maker's icons for the App Store and Mobile Safari for inclusion on a wall of app icons at a "shop in shop" retail location in Italy.
Update: SetteB.IT reports (via Google Translate) that the app wall is part of the Euronics store's design and not commissioned by Samsung.
A photo of the South Korean electronics giant's new mini-shop, located inside a Euronics store at the "Centro Sicilia" shopping mall in Catania, Italy, appears to show one wall of the shop covered with app icons, including several apps from Apple found only on its iOS platform, AllThingsD reports (via HD Blog).
It should be noted, however, that it's not immediately clear whether Samsung authorized the app wall as part of its shop. Samsung did not immediately respond to a request for comment.
According to the photo, the store's display features a prominent advertisement for the Galaxy Ace smartphone and contains a number of demo units of the company's smartphones and tablets. A variety of accessories also appear to be on offer at the shop.
Samsung and Apple will directly compete with each other at the Centro Sicilia, as Apple is set to open an Apple Store there on Saturday.
Interestingly enough, the photo has appeared even as Samsung has vowed to be "more aggressive" in its legal action against Apple. The company's head of global marketing for mobile communications, Lee Younghee, accused the iPhone maker of "free riding" on Samsung's patents and promised to be less "passive" in its approach.
The company made good on its claim by filing new patent infringement suits against Apple in the Netherlands. The complaints seek to ban the iPhone 3GS, iPhone 4, first-generation iPad and iPad 2. Samsung executives have also reportedly said that the company is already planning a legal assault of the iPhone 5.
"For as long as Apple does not drop mobile telecommunications functions, it would be impossible for it to sell its i-branded products without using our patents. We will stick to a strong stance against Apple during the lingering legal fights," one senior executive for the company allegedly said.
For its part, Apple has accused Samsung of "slavish" copying of its iPhone and iPad. Lawsuits have since come in a rapid back-and-forth; all told, the two companies have racked up more than 20 complaints against each other.
Courts in Germany and Australia have sided with Apple, blocking Samsung's Galaxy Tab 10.1 from sale in their countries.
The legal dispute between the two companies may have also affected their business relationship. In addition to competing with the iPhone maker, Samsung also serves as a supplier to critical components to Apple. According to one estimate, Apple will become Samsung's biggest customer this year with $7.8 billion in orders.
But, recent reports suggest that Apple may have turned elsewhere for production of its A-series processors and flash memory as its relationship with Samsung has worsened.