Apple seen selling 4.63M Macs, 12M iPads in record quarter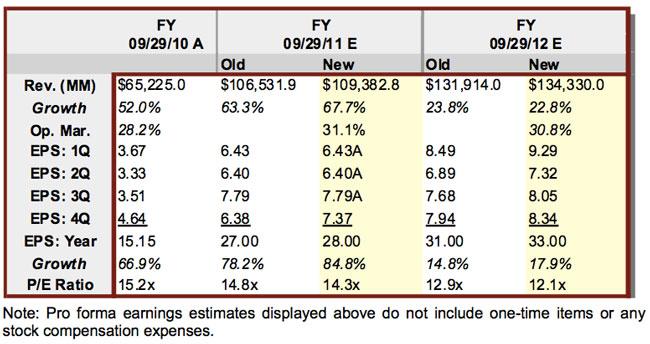 With Apple's fourth quarter of fiscal 2011 drawing to a close, it is expected in a matter of weeks to report record sales of both its Mac and iPad product lineups.
Analyst Charlie Wolf with Needham Research said in a note to investors on Wednesday that he sees Apple reporting sales of 4.63 million Macs and 12 million iPads in its September quarter. Both of those would be records for the company, which topped off at 9.25 million iPads last quarter, and 4.1 million Macs last Christmas.
Wolf's Mac projections are up from his previous forecast of 4.4 million, despite a weak overall PC market. He cited surveys that indicate Mac sales in the September quarter were stronger than previously expected.
Domestic sales figures released by the NPD Group earlier this month showed Apple on pace to sell 4.5 million Macs in the September quarter. Based on the first two months of the quarter, Mac sales were up 22 percent year over year in the U.S.
He also expects sales of iPad units to end users to be around 9 million for the quarter, with total sales into the channel of 12 million, leaving Apple with three to four weeks of inventory in the channel. That would be a major improvement from what was effectively no weeks of inventory in the channel at the end of the June quarter.
As for iPhone sales, Wolf expects that Apple will report sales of about 17 million units. That would be a sequential decline from last quarter's record 20.34 million iPhones sold, as the analyst anticipates that subscribers will postpone purchases ahead of the anticipated fifth-generation iPhone launch.
Needham sees Apple reporting fourth-quarter earnings-per-share of $7.37, with total fiscal 2011 EPS of $28. For 2012, the firm expects EPS of $33. It has maintained a price target of $540 for AAPL stock.