JP Morgan: Kindle Fire is 'noise,' won't compete with Apple's iPad 2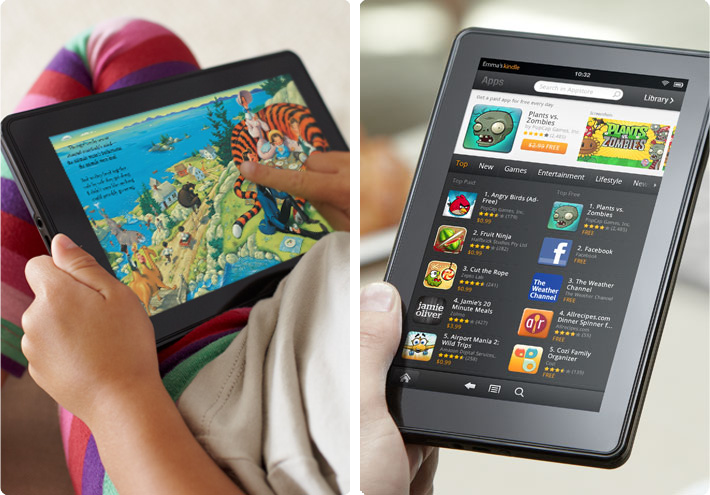 Amazon's new Kindle Fire won't compete with Apple's iPad 2, and isn't even a lock to become the second-most-popular tablet on the market, one Wall Street analyst believes.
In a note issued to investors on Wednesday, Mark Moskowitz with J.P. Morgan said any claims that the Amazon will become the world's No. 2 tablet-maker are simply "noise." He said he's "not impressed" with the Kindle Fire, which was unveiled with a $199 price point on Wednesday.
Moskowitz said that he still doesn't see a major competitor to Apple's iPad in the tablet marketplace, as he feels Amazon's new color touchscreen tablet is a stepping stone "at best."
"Until we see how the Kindle Fire evolves, we are comfortable stating that the emergence of a major two tablet vendor remains elusive," the analyst wrote.
Moskowitz said he believes users have come to expect certain features in a tablet, and Amazon's device may not meet those expectations. He feels the Kindle Fire is more of a hybrid device than a true tablet.
"It is our view that for tablet vendors to win customers, a feature-rich, user-friendly tablet is a key requisite," he said.
The Amazon tablet has three main features that could win consumers: Amazon's proprietary user interface built around Android, content from Amazon Prime, and a low price point. However, Moskowitz said he doesn't feel that any of those are a game changers.
On the Fire's $199 price point, Moskowitz said it may attract early adopters, but he's wary of such momentum being sustained. He said the low price may in fact turn out to be a detriment in marketing the device to consumers.
"Kindle Fire's low price point speaks to how there is much lacking in the device," he said. "We argue that the price point is not going to afford most users a tablet-experience, which is a problem if Amazon wants to become a major tablet vendor."
The Kindle Fire's 7-inch screen, coupled with the absence of a camera, GPS and microphone, were listed as shortcomings when compared to similar devices such as the iPad. And because the device also lacks 3G connectivity, Moskowitz believes it could be a hybrid device leading the way for a more full-featured device.
Amazon is rumored to be working on a 10-inch tablet that will launch next year, as well as an 8.9-inch version with an "amazing form factor" for the second half of 2012. Reports have suggested Amazon is testing the market with the first Kindle Fire before potentially pursuing additional form factors next year.