German carrier lists Apple 'iPhone 4S' in 16GB, 32GB & 64GB capacities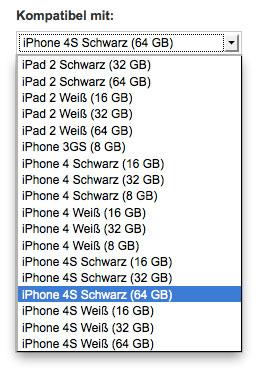 Germany's Vodafone has suggested that Apple this week will announce a new "iPhone 4S" available in three capacities, including a new high-end 64GB model.
The information comes from the accessories section of Vodafone Germany's website. As discovered by iPhone-Ticker.de, the new iPhone 4S is also available in the existing 16GB and 32GB sizes of the current iPhone 4.
As for the iPhone 4, the listings also suggest that Apple will reduce its memory to 8GB to make it the company's new low-end model. That's the same strategy the company employed in 2010, when it began selling the previous-generation iPhone 3GS for $99, and eventually reduced that price to $49.
Vodafone's listing also suggests Apple will offer both the iPhone 4S and the 8GB iPhone 4 in black and white models. It took Apple 9 months to finally release the white iPhone 4 first announced in the summer of 2010, as the company ran into issues with coloring the glass on the handset.
Though the iPhone 4S name has been used colloquially for months to refer to what rumors have dubbed a "minor" upgrade to the current iPhone 4, this weekend the name was discovered in a beta build of Apple's official iTunes software. The listing from Vodafone provides even more evidence that the iPhone 4S name has been used by Apple as well, at least internally.
Apple will unveil its fifth-generation iPhone on Tuesday at 10 a.m. from the company's corporate campus in Cupertino, Calif. AppleInsider will have full live coverage of the event.