Apple outs iPhone 4S coming Oct. 14, plus updated iPod nano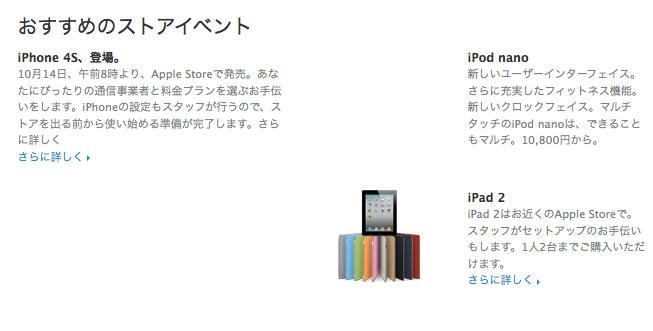 Apple jumped the gun on Tuesday, updating websites in Japan ahead of its media event, revealing the new iPhone 4S set to go on sale on Oct. 14, as well as an updated iPod nano with a "new user interface."
The details come from the sites for Apple's Japanese retail stores, where the name "iPhone 4S" is listed. A translation of the site reveals that the handset will be available starting Oct. 14 at 8 a.m.
The first confirmation of the iPhone 4S name came from a beta build of iTunes. Hidden in the software was a reference to an iPhone 4S, with a design similar to the current iPhone 4.
Also mentioned on the site is an updated iPod nano with a "new user interface," as well as improved fitness functionality. The translated page also makes mention of a "new clock face" with the device.
Neither of the blurbs on the page reveal any further details on the iPhone 4S or updated iPod nano, but all will be revealed in a matter of minutes at Apple's iPhone media event. Stick with AppleInsider for live coverage of the keynote presentation.