iPhone 4S, iOS 5 dramatically boost BrowserMark scores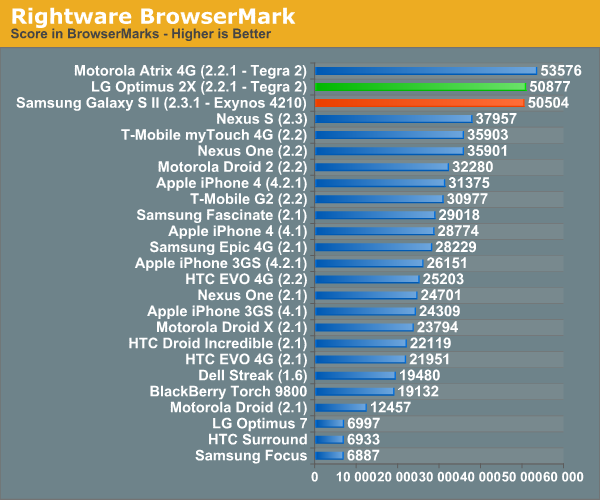 Benchmarks performed on Apple's new iPhone 4S demonstrate a huge leap in performance over the existing iPhone 4, although iOS 5 also improves the performance of Apple's existing devices.
iOS 5 to boost existing iPhone speeds
A recent benchmark scoring of popular smartphone models depicted Apple's iPhone 4 running iOS 4.2.1 as achieving a score of 31,375 in Rightware's BrowserMark suite of tests, aimed at profiling the web browser proficiency of a system.
A number of smartphones have beat Apple's former flagship model in BrowserMark scores, with the super fast Motorola Atrix 4G, LG Optimus 2X and Samsung Galaxy S II all ranking in the ballpark of 50 to 53,000.
Those phones have significantly faster processors than last year's iPhone 4 with its single core A4 chip, which appears to run at around 800MHz. The Motorola Atrix and LG Optimux 2X use a dual core 1GHz chip, while Samsung's Galaxy S II has a dual core chip that runs at 1.2 GHz.
When upgraded to iOS 5 however, today's existing iPhone 4 achieves a score in the same zone as newer dual core chips: in our test, we achieved a score of 51,302. Users can run the test on their own devices at bit.ly/brmark.
A link on Rightware's site notes that among "popular phones," the iPhone 3GS scores 26,897, the Google Nexus One scores 23,726, the Motorola Droid achieves 14,918, and Nokia's N900 running Firefox hits 8,646.
New iPhone 4S even faster
According to a video of the new phone published by mictvstation, the new iPhone 4S hardware achieves a score of 89,567, a score over 74 percent faster than the existing iPhone.
While Apple has announced hitting preorder sales of over a million iPhone 4S models in its first day on sale, iPhone 4 and iPhone 3GS handsets are also racking up big sales after recent price drops.
The CPU specifications of new Android models like the speedy Motorola Atrix and HTC Inspire haven't enabled those devices to outsell even Apple's 2009 iPhone 3GS among AT&T shoppers.
iPhone 4 has remained the top selling US smartphone at both AT&T and Verizon.
Now that Sprint will also be selling both the iPhone 4S and a discounted new 8GB iPhone 4 model, the popularity of Apple's smartphone lineup is set to continue its trajectory, with iOS 5 helping to keep previous models competitive.