Genius Bar iPhone policies tightened to make AppleCare+ more attractive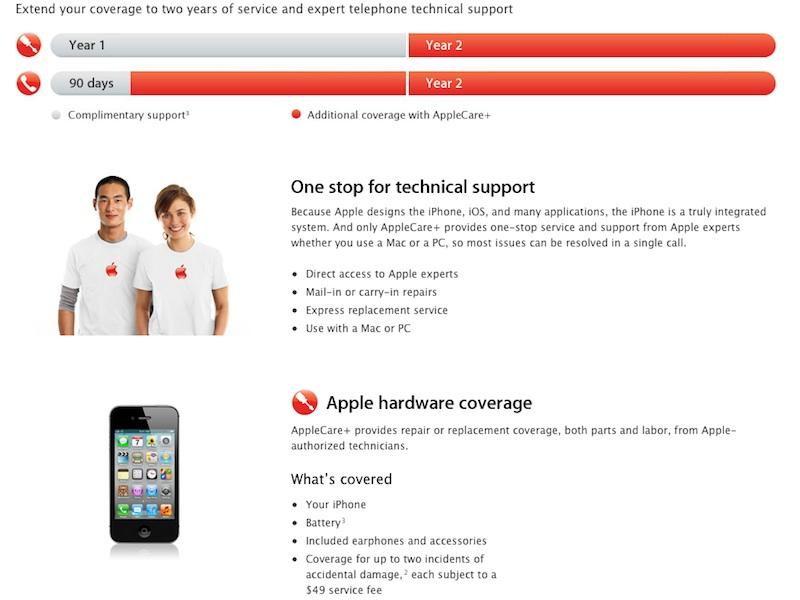 After introducing a more comprehensive extended warranty option for iPhone buyers, Apple is reportedly curtailing liberal exchange policies in its retail stores to make the new option more attractive.
Last week, Apple introduced "AppleCare+" for iPhone buyers, a $99 replacement for its previous $69 extended warranty plan, but one that now covers up to two incidents of accidental damage. Previous plans did not cover accidental damage.
Under the terms of the new plan, users who experience factory defects or problems, like a premature battery failure or problem with their headphones, are covered for free for two years, while any accidental damage caused by the user is covered for the same two year term with a $49 deductible termed a "service fee."
Users also get two full years of free software support, although according to the AppleCare+ warranty contract, such free support excludes software described as beta, which would currently exclude iOS 5's Siri service.
Under the terms of the revised plan, Apple will now repair or replace an accidentally damaged device with a new or refurbished model at the $49 price of the service fee, something that would otherwise cost $200 outside of the warranty period.
Apple refers to such accidental damage from handling as "ADH," and defines it as "operational or mechanical failure caused by an accident from handling that is the result of an unexpected and unintentional external event (e.g., drops and liquid contact) that arises from your normal daily usage."
ADH does not provide "protection against normal wear and tear, theft, misplacement, reckless, abusive, willful or intentional conduct associated with handling and use of the Covered Equipment," Apple's terms and conditions outline.
Also excluded from coverage are "abuse, misuse, fire, earthquake or other external causes," "scratches and dents, that do not otherwise affect the functionality," other wear and tear due to normal aging of the product, devices "with a serial number that has been altered, defaced or removed, or has been modified to alter its functionality or capability."
The company notes "you will pay a $49 (U.S.) dollar service fee for each ADH claim, and may be asked to provide an explanation of where and when the accident occurred," adding that "Failure to pay the service fee or provide information relating to the accident when asked will result in claim denial."
Now, not free to charismatic buyers
However, Genius Bar employees have had the ability to waive that fee, negating much of the potential value of the AppleCare+ plan.
That flexible exchange policy now appears to have ended, forcing users who expect a cheap replacement for their own accidental breakage to opt into the AppleCare+ plan and pay a fee each time they damage their device, with a two incident limit on how many times they can claim a replacement.
Apple also appears to have tightened the requirement for buying the AppleCare+ option, noting on its website that "AppleCare+ must be purchased together with new covered equipment," although the contract also notes that will not cover "pre-existing condition on any Covered Equipment if you purchased the Plan after you purchased the Covered Equipment."
Separately, the contract also notes "You must purchase the Plan while your original iPhone is within Apple's One Year Limited warranty," a contradiction of its website notice, but one that should supersede that limitation because it is actually written into the contract.
Apple also states that, "Unless local law provides otherwise, if you cancel within thirty (30) days of your Plan's purchase, or receipt of these Terms and Conditions, whichever occurs later, you will receive a full refund less the value of any service provided under the Plan."
After 30 days, users who want to cancel the plan will receive a "pro rata refund of the original purchase price, based on the percentage of unexpired Coverage Period from the Plan's date of purchase, less (a) a cancellation fee of twenty-five ($25) dollars or ten percent (10%) of the pro-rata amount, whichever is less, and (b) the value of any service provided to you under the Plan."