AT&T activation overload forces some iPhone 4S owners to wait [u]

Some customers attempting to activate their new iPhone 4S on Friday encountered server problems, and were met with a message in iOS 5 stating their activation was "pending." [Update: Some activations now "unavailable."]
Those users who cannot activate have apparently had their attempt placed in a queue, as the iOS 5 setup notification states that the user will receive an e-mail notification when their pending activation is completed.
The problem appears to lie with AT&T's activation servers, as a number of customers have reported difficulty getting their iPhone 4S up and running on the carrier's network. Friday's launch marks the first time in the U.S. that a new iPhone has debuted simultaneously on carriers other than AT&T, with Verizon and Sprint joining the fray.
Some customers on AT&T reported being stuck in the activation process for hours on Friday. The situation is particularly frustrating as the new iPhone 4S cannot be used, and its new features like Siri cannot be tested until the device is activated.
Update: Later Friday, some users began receiving a new error message: "iPhone activations are unavailable at this time." It states that the system is "unable" to process any new activations, and users are advised to try again later (see screenshot below).
Activation issues with a new iPhone on launch day with AT&T are not new. For example, in 2009 Apple warned users that activations of the then-new iPhone 3GS could take up to two days.
Previously, activations were accomplished by plugging an iPhone into a Mac or PC via USB and completing the process through iTunes. But the new iPhone 4S comes preinstalled with iOS 5, which allows for PC-free setup and activation directly on the device.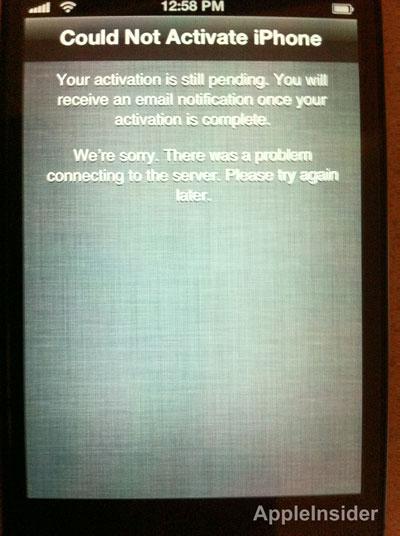 Friday's launch of the iPhone 4S is the largest debut yet for a new iPhone model. In addition to being available on three carriers in the U.S., the new device is also available in Canada, Australia, the U.K., France, Germany and Japan. Apple's stores opened at 8 a.m. local time to begin sales, drawing crowds around the world.